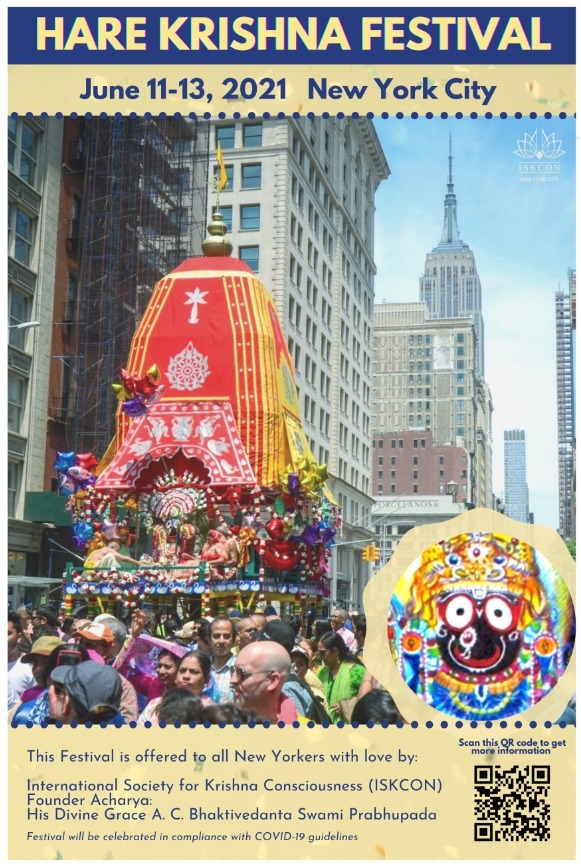 Yes, we've heard from devotees in New York that the annual Ratha-Yatra on 5th Avenue WILL go on this year!
We've also been informed the devotees are actively negotiating with authorities in New York City to get permission to use Washington Square Park for the Hare Krishna Festival of India.
Other than a few times we were moved to Central Park, the Festival of India has been doing this New York Festival in this same Washington Square Park since 1979.
This year, due to Pandemic related restrictions, we may not be able to do the festival.
Festival of India's crew of enthusiastic men are ready to go, we're just waiting to hear from devotees in NY, that they've secured permits.
As you'll read in the below flyer, the devotees in New York--being totally dedicated to Mahaprabhu's and Srila Prabhupada's Sankirtan Mission, are continuing to do Harinam Sankirtan. There will be 3 full days, June 11 through the 13th, of Harinam Sankirtan--ecstatic chanting of the Maha-mantra: Hare Krishna Hare Krishna Krishna Krishna Hare Hare Hare Rama Hare Rama Rama Rama Hare Hare. Please come and join the Sankirtan. Hare Krishna!