In 2014 Prahlada, now Panca Tattva dasa, started designing an exhibit to replace the Gita exhibit Festival of India has been using for many years. Of course nothing was wrong with the original exhibit that was being used, it is just after 12 or 15 years the exhibit needed to be replaced. Lord Krishna's words and Srila Prabhupada's purports are Guaranteed Perfect for Everyone for the next 10,000 years. Unlike Srila Prabhupada's transcendental purports, and Lord Krishna's sublime and eternal words spoken to Arjuna in the Gita, the Panels used to build Festival of India's exhibits do not last for eternity. Fifteen years is all the use we plan on from an exhibit.
Panca Tattva dasa spent spent hundreds of hours in selecting paintings and text from the original edition of Srila Prabhupada's Bhagavad-Gita and designing the exhibit. Manorama Prabhu and M. Raghu d.d. polished it, and it was sent to the printer in early May.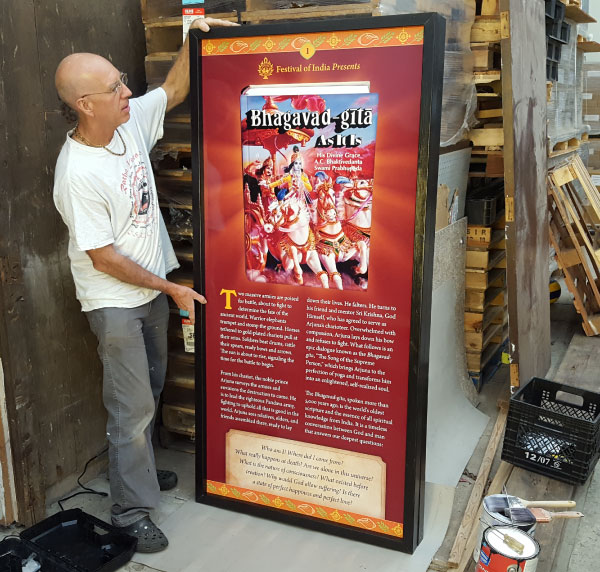 Above, Madhuha dasa inspecting the first panel in the new exhibit.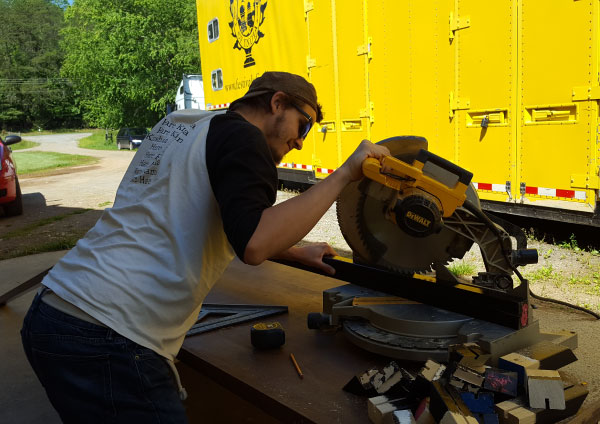 Bhakta Cory Feres, from Halifax, Nova Scotia cutting the shaped & finished Poplar framing materials.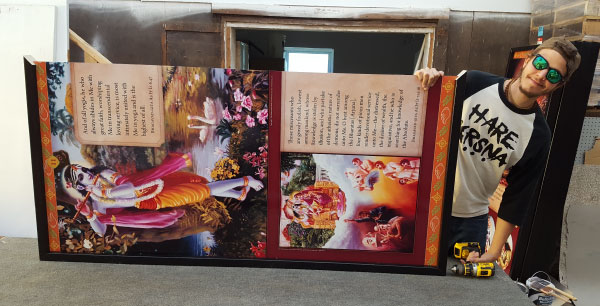 Cory screwing the precisely-fitted frames together. After the frames were assembled, the steel corner peices that attach to the supporting poles were screwed on.
All Festival of India's exhibits: The Illustrated Bhagavad-Gita; The Science of Reincarnation; Vegetarianism--The Higher Taste; Who Is Prabhupada; and Transcendental Art, are all designed to be 'marketing tools' for Srila Prabhupada's transcendental books. Festival of India's exhibits have been helping devotees distribute Srila Prabhupada's books since 1979. Hare Krishna.
Please be sure to checkout this new Bhagavad-Gita exhibit at the next Festival of India you participate in.