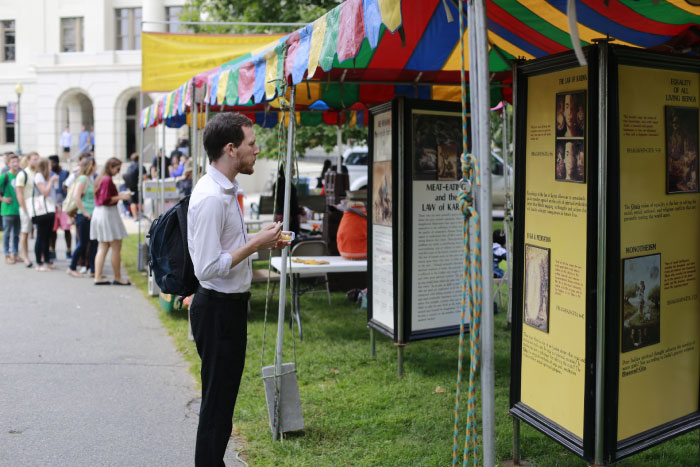 Student at American University reading Festival of India's exhibit panels.
Every spring and fall since 2009 Festival Of India Holds festivals at universities in the Baltimore/Washington DC area. These festivals are organized by M. Jahnavi d.d. Sankhla, and Sankirtana Yajna Prabhu. At these festivals, many thousands of plates of Prasadam and books are distributed. Sankirtana Yajna Prabhu and Mother Jahnavi also hold Bhakti yoga classes once a week throughout the year at these universities.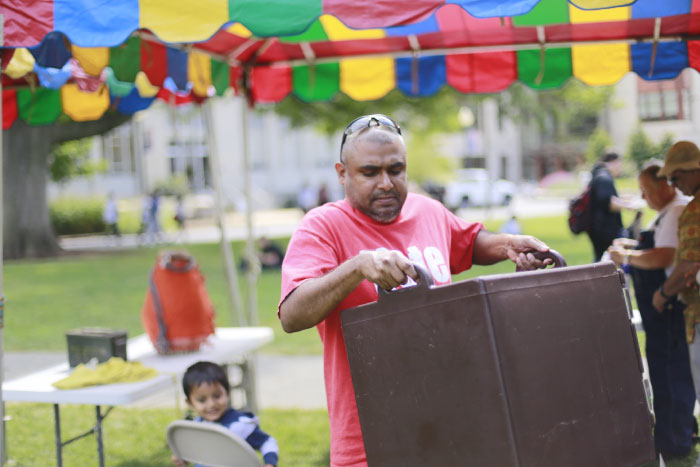 Carrying in and preparing the Prasadam to be served to the thousands of students and AMU.
Monday September 15, the fall season university preaching marathon started! At 4:00 am, at the Baltimore temple, local devotees led by Sankirtan Yajna Prabhu starting working in the kitchen preparing massive amounts of Krishna prasadam. Meanwhile, the FOI crew started setting up Tents and Exhibit panels at American University. At around 11:00 am everything was ready and festivities started. Sankirtan Yajna Prabhu and crew distributed over 1000 plates of Prasadam and hundreds of His Divine Grace, A.C. Bhaktivedanta Swami Srila Prabhupada's Transcendental books!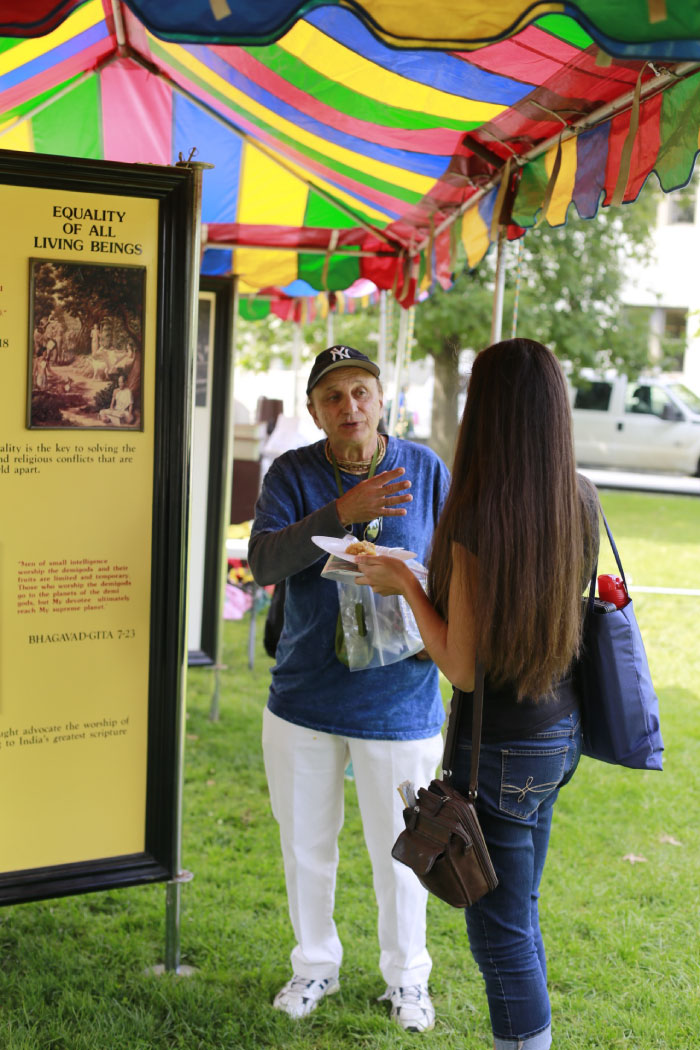 Devotees were passing out Srila Prabhupada's books, and explaining the Bhagavad-gita exhibt to students.
Wednesday September 17, the Festival was held at University of Maryland, College Park Campus. 1500+ plates of Krishna Prasadam and Hundreds of japa meditation kits (little plastic bags with a set of Japa Beads, and 5 or 6 of Srila Prabhupada's small books and an 'On Chanting Hare Krsna' pamphlet as well as an invitation to the Sunday Love Feast at the local ISKCON temple) were distributed. Hare Krishna.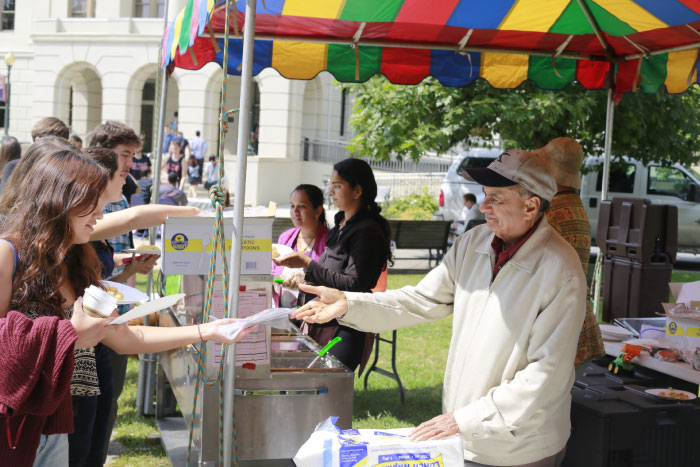 Jahnavi Mataji's father passing out the "Meditation Kits" stuffed with Srila Prabhupada's books and Japa Beads.
Friday September 19, the Festival was held at George Mason University in Virginia. 700+ plates of Krishna Prasadam and Transcendental books were distributed.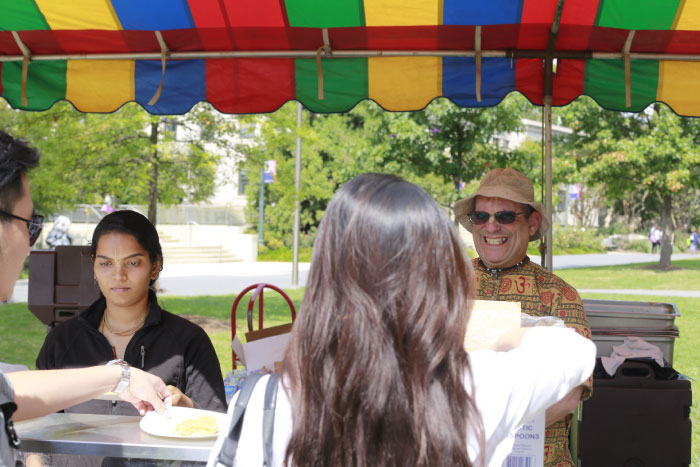 The devotees were blissful passing out delicious Krishna Prasadam.
On Saturday evening FOI attended the Bhakti Yoga class at University Of Maryland, and as a result of the festival earlier in the week, many more people attended.

The students were blissful tasting the delicious Krishna Prasadam.
We would like to take this opportunity to thank the Vaisnavas who help make these wonderful festivals possible. Sankirtan Yajna Prabhu and Mother Jahnavi for organizing and Govherdhana Dhari prabhu and Shivam Prabhu for helping with the set up and takedown, and cleaning up of the festival sites. Hare Krishna.

Festival of India has been on the campus for four years now, it's 'part of the University scene at AMU'.
Hope to see you in Philadelphia on September 27 at the last Ratha-yatra this year in North America. Hare Krishna.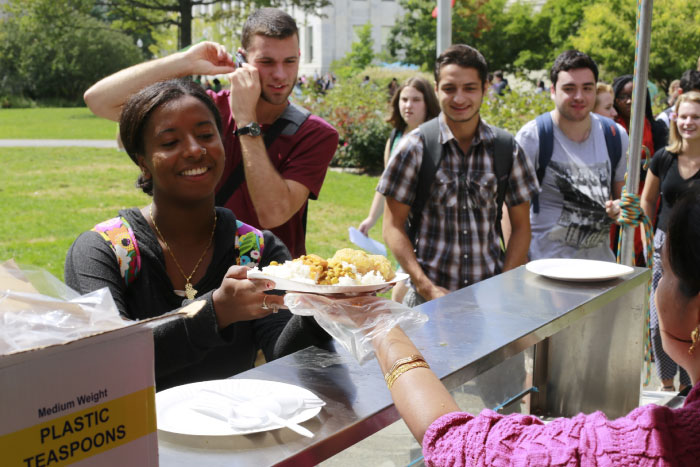 All the students waiting in line with great anticipation to get their plate of Sumptuous Krishna Prasadam. Hare Krishna.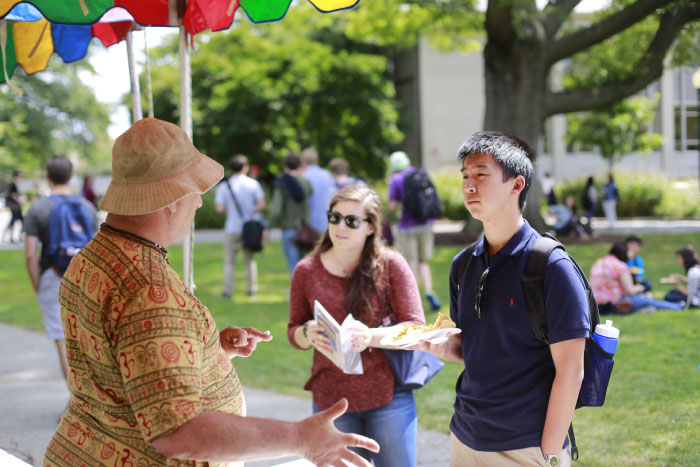 Students were asking intelligent questions, and listening with eagerness--hearing the devotees explain the sublime process of Krishna consciousness.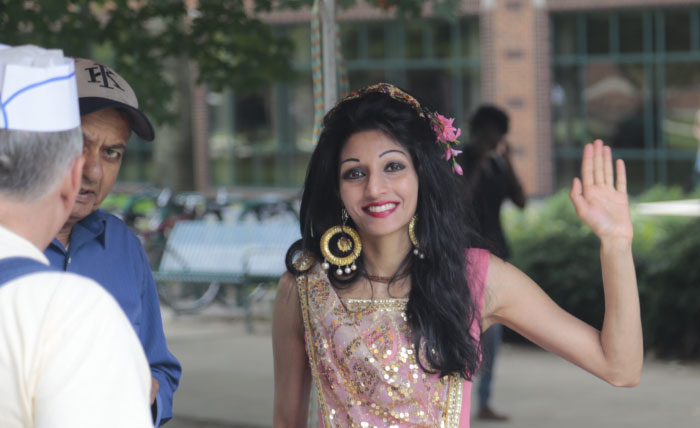 Jahnavi devi dasi, has been promoting Festival of India on University Campuses in the Baltimore and Washington D.C. areas for many years.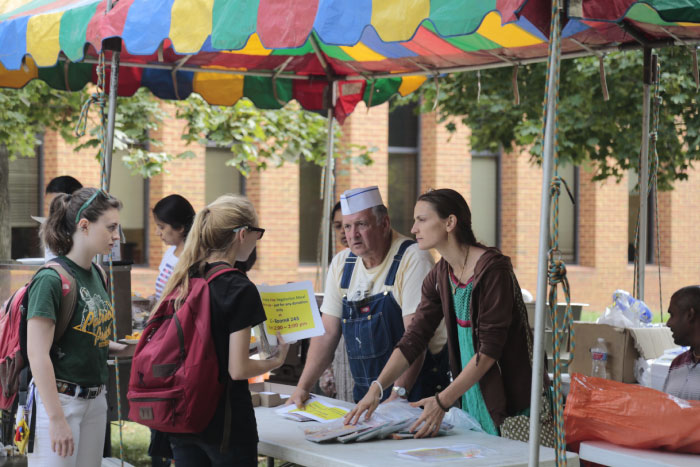 Hearing all the compliments, and of the students appreciation of the Krishna Prasadam, and how many people were coming with interesting philosophical questions, the devotees were in ecstasy.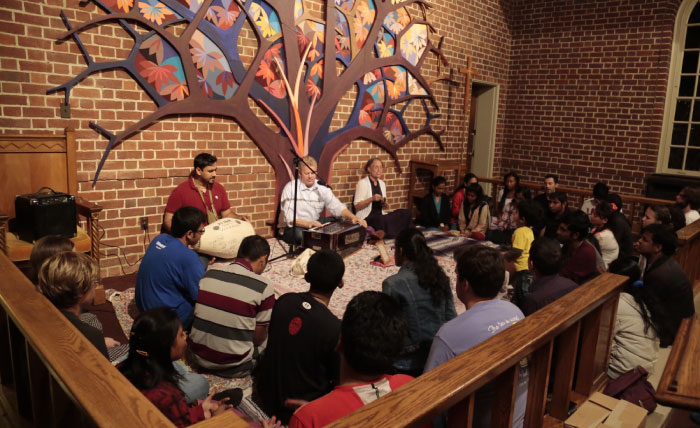 Right after the Festival of India was on Campus, the attendance at the weekly Bhagavad-gita class shot up.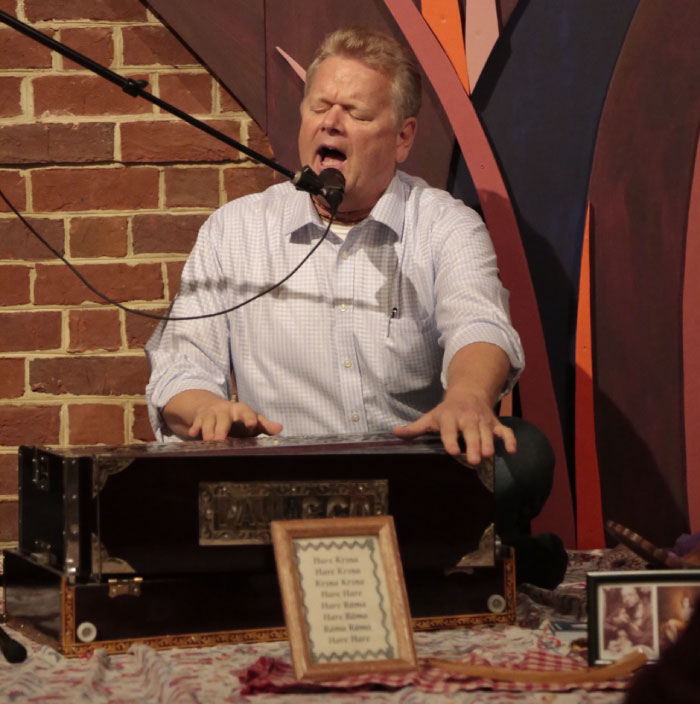 Devaprastha Prabhu chanting the Hare Krishna mantra with feeling and sincerity.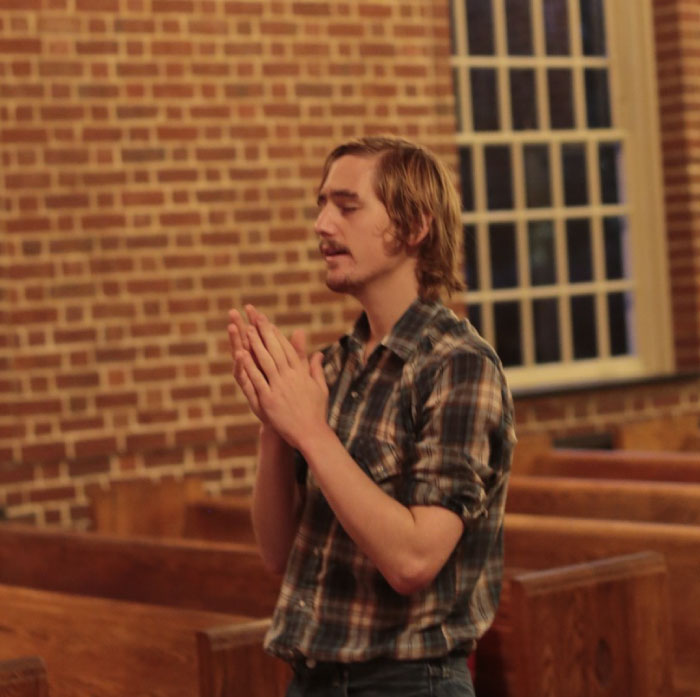 The Hare Krishna mantra penetrates the ears and enters into the heart. Hare Krishna.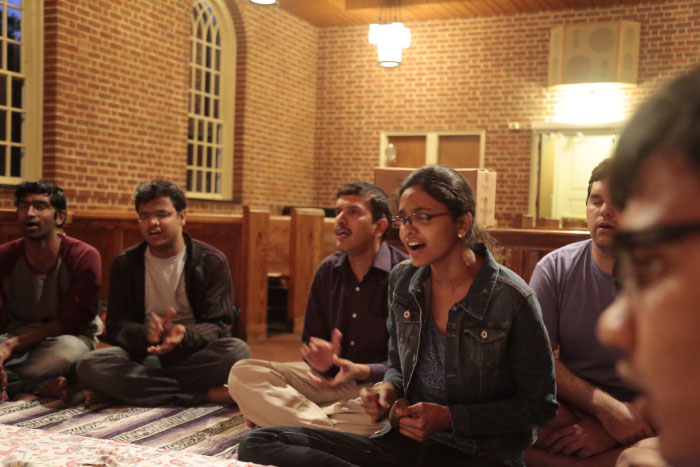 So many students were chanting as well, they were 'getting it'. Krishna consciousness is contagious. Hare Krishna.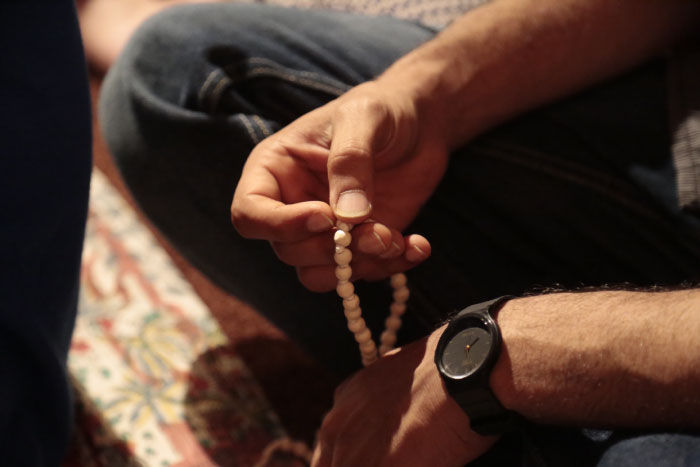 The weekly Bhagavad-gita classes also have a 'Mantra Meditation' (japa) section.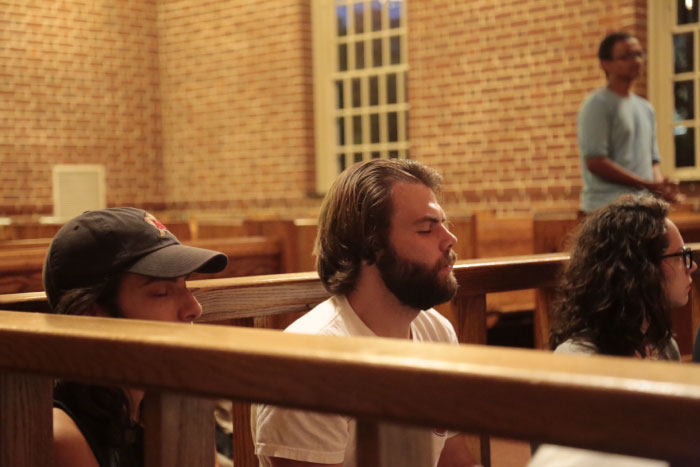 Hearing the Maha-mantra, Hare Krishna, inspires meditation in the students at the Gita class.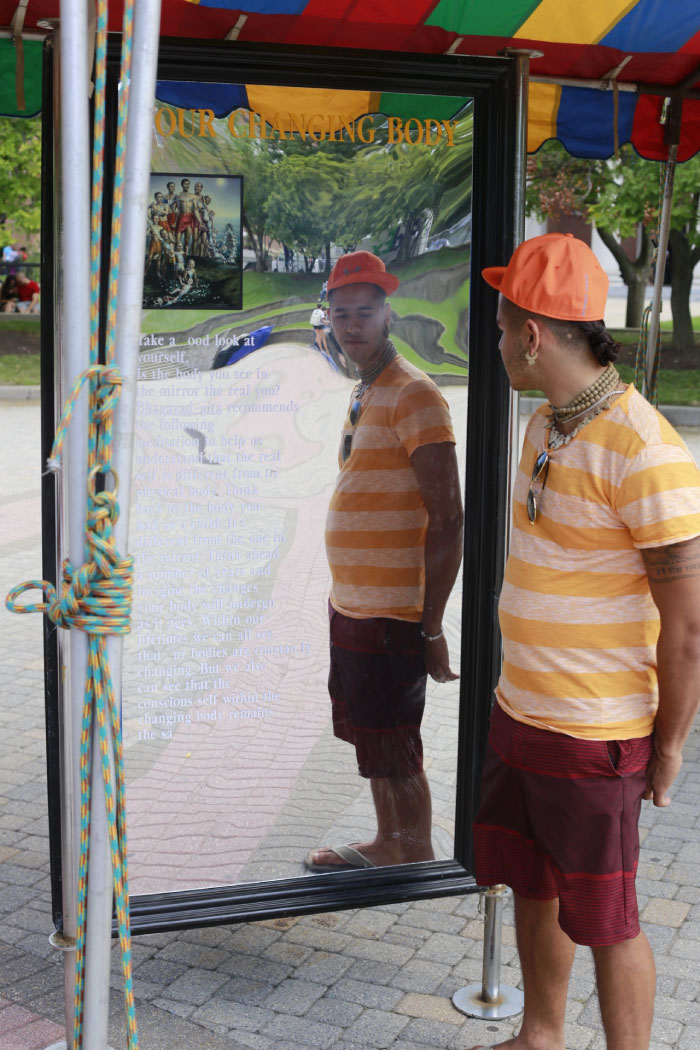 Govardhana-dhari Prabhu checking out the Science of Reincarnation Exhibit.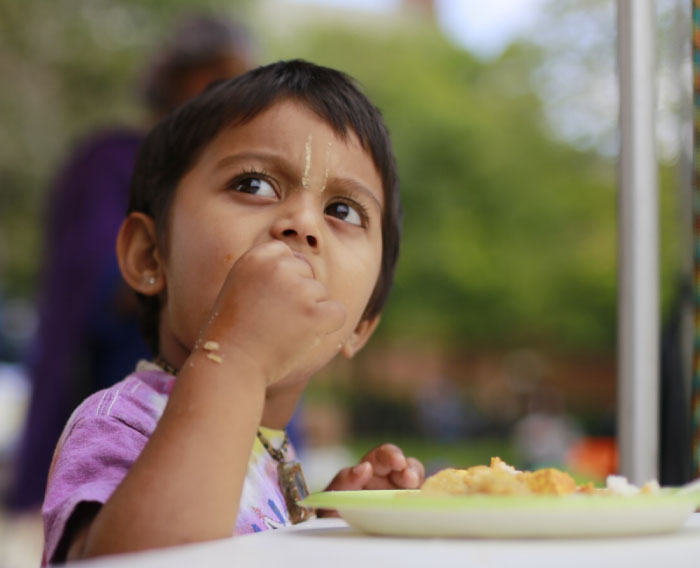 Everyone loves Krishna Prasadam.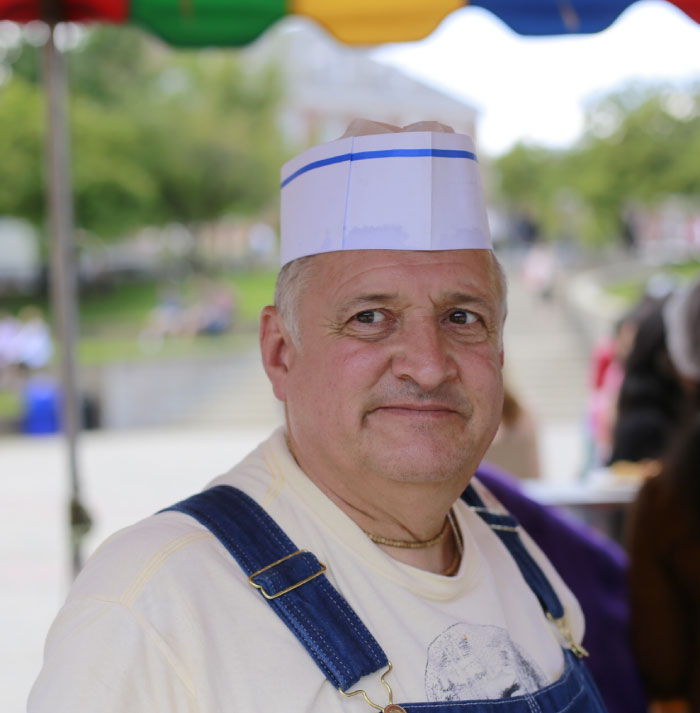 Sankirtan Yajna Prabhu--The transcendental Krishna conscious chef who cooks, prepares and organizes the prasadam distribution on the University Campuses.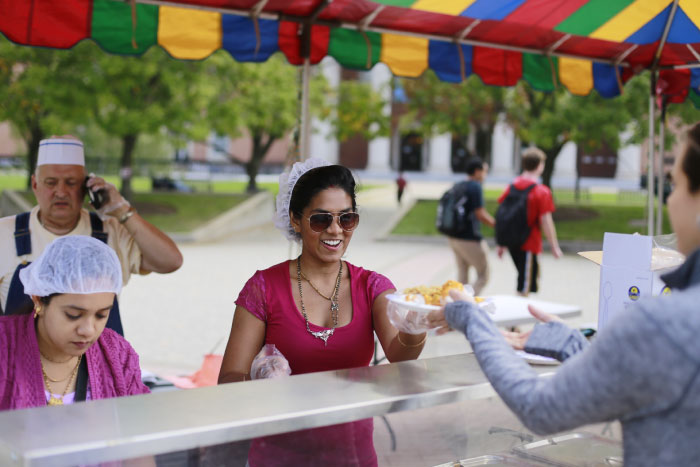 The Prasadam was so ecstatic, even the distributors were blissful.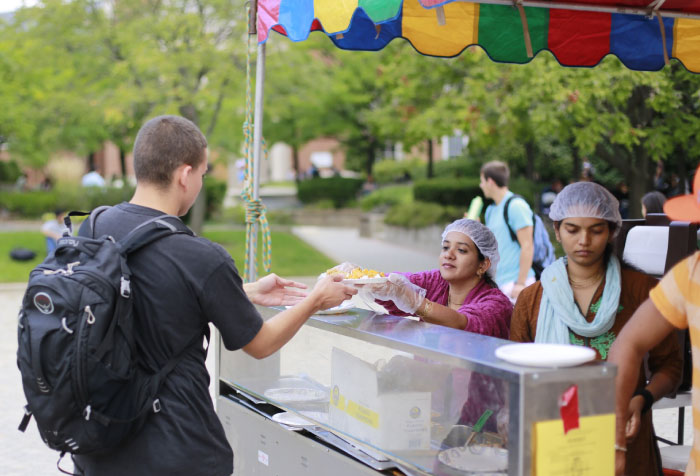 After making and passing out 2,000 plates of delicious prasadam, we were getting tired.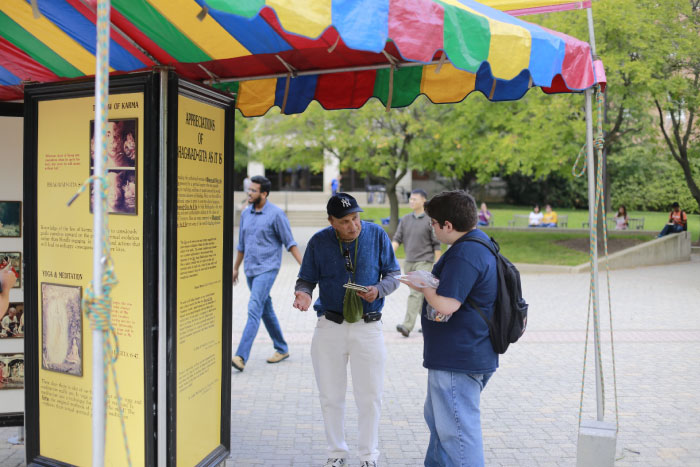 "Thanks for coming to the festival. Now you've got the Meditation kit with Srila Prabhupada's books, and you've had the Krishna Prasadam. Please try to chant this Hare Krishna Mantra, and your life will be sublime"