Text from Phani Bhusan Prabhu, photos from Prahlada and Nitai Chandra Prabhus…
The beauty of the nearly full moon cooled mother earth as FOI plied north for Canada once again. Three days travel brought crew and vehicles to border crossing by Wednesday midnight. Due to assertions by immigration authorities a night long delay was finally concluded. With only Thursday remaining to iron out plans, every hour was consumed with finding balance. The crew was already worn out and very tired from the 3 day trip and spending a night getting interrogated in the Canadian Customs and immigration office.
Predawn Friday morning, the image of Festival instigation was in many minds, the Festival of India trailer, was weaving its way through the avenues and streets of Vancouver. As the dewy grass warmed with sunrise, the truck nestled in 500 year old Redwood and giant Fir trees at the weekend festival site--Second Beach, a small part of the pristine natural and universally famous, Stanley Park.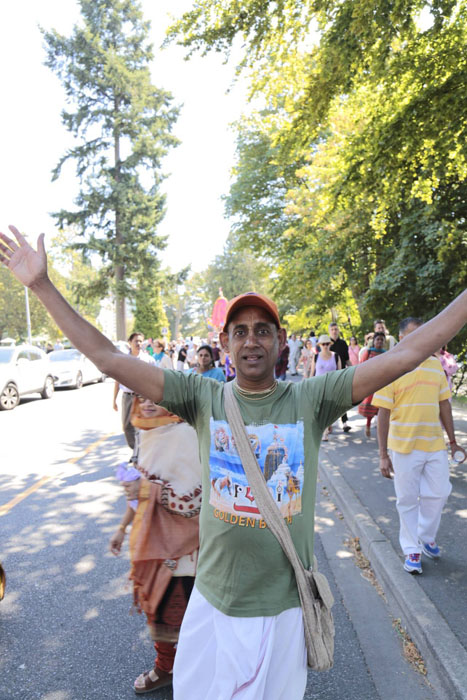 Rukmakesh Prabhu, Vancouver's 'Main Man' works with many devotees from Vancouver setting up the huge kitchen and getting the carts ready for the parade.
Because Krishna fulfills all desires, both the local government and temple authorities decided to bring the main thrust of the Hare Krishna festival back into public exposure. Lots of Chanting of the Hare Krishna Mantra—Hare Krishna Hare Krishna Krishna Krishna Hare Hare Hare Rama Hare Rama Rama Rama Hare Hare, and the distribution of Srila Prabhupada's transcendental books, including the Old Indian 3-volume set of the Srimad Bhagavatam First Canto (the three volumes that Srila Prabhupada brought with him to America in 1965). Festival of India's pure and simple presentation with exhibit panels affording a clear and attractive vision of practical Krishna consciousness for everyone, the result.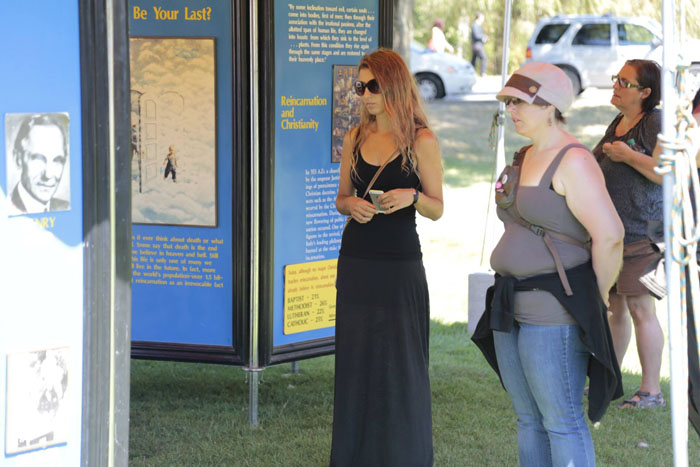 FOI's exhibits were read by thousands over the weekend, many of whom took home at least one of Srila Prabhupada's books.
Reading Festival of India's exhibit panels helps everyone, especially non-devotees, and new-comers to understand essential aspects of the Krishna consciousness philosophy—You're not that body in the Science of Reincarnation; an overview of the Bhagavad-gita in the Illustrated Gita; what is a devotees diet, and why in the Vegetarianism exhibit, and of course everyone who reads it, is introduced to Srila Prabhupada in the Who Is Prabhupada exhibit.
Saturday was primarily for fine tuning.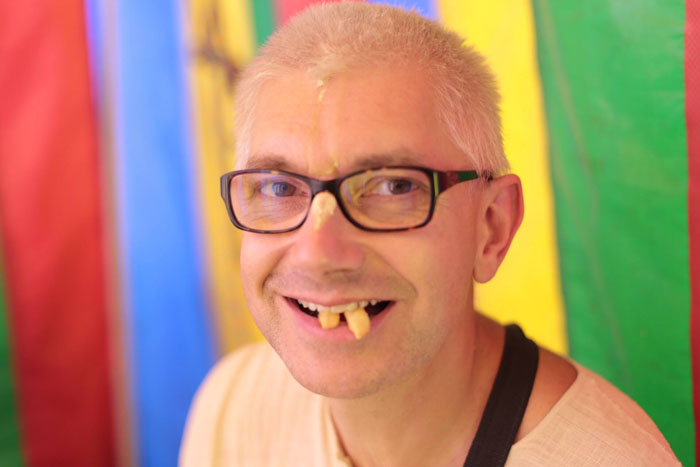 Peter, a FOI veteran from the 1990s, organizes the drama, and was the MC
Rehearsals worked the stage, children's booth equipment delivered, and food court organizers putting their hearts into extensive labors of love consumed the day.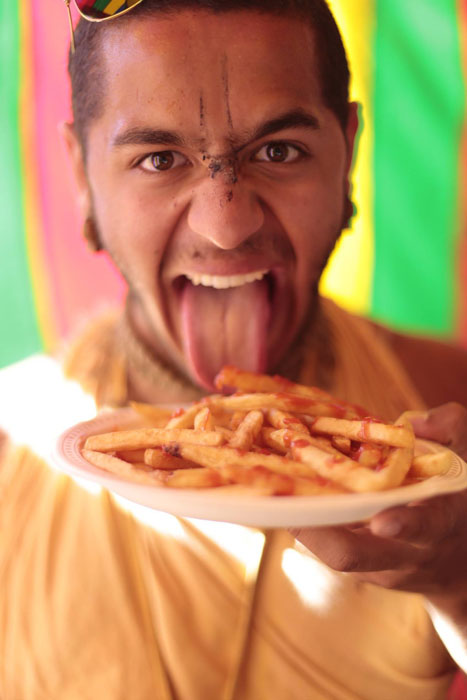 Govardhana-dhari Prabhu "going for it" honoring Sri Krishna Prasadam.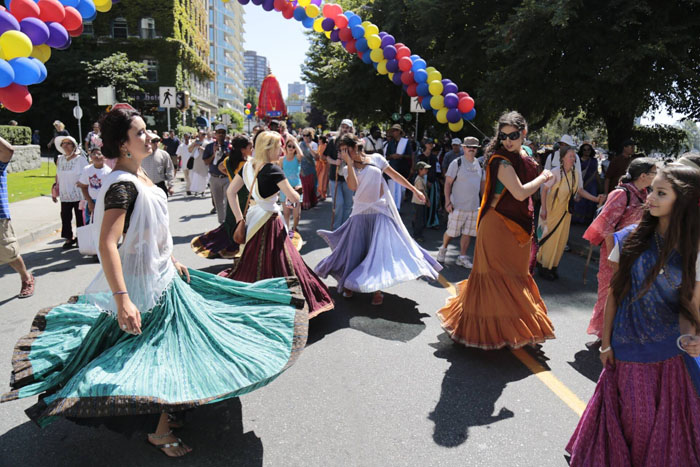 The Ratha-yatra parade in Vancouver always has it's signature balloon arch.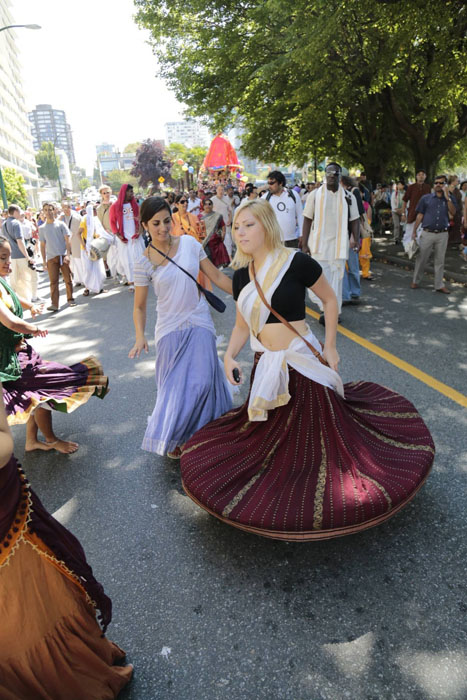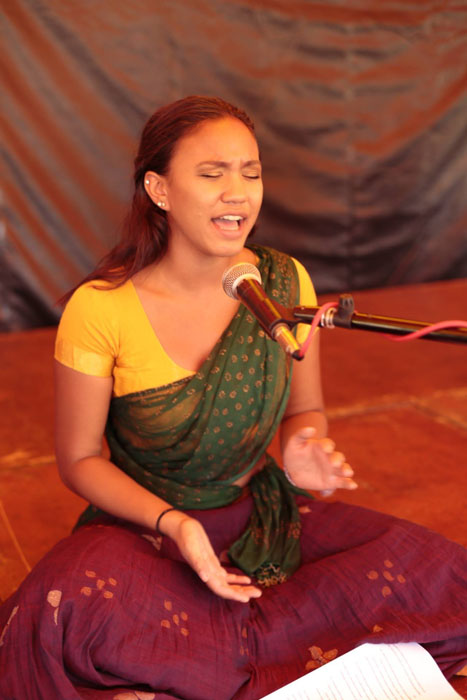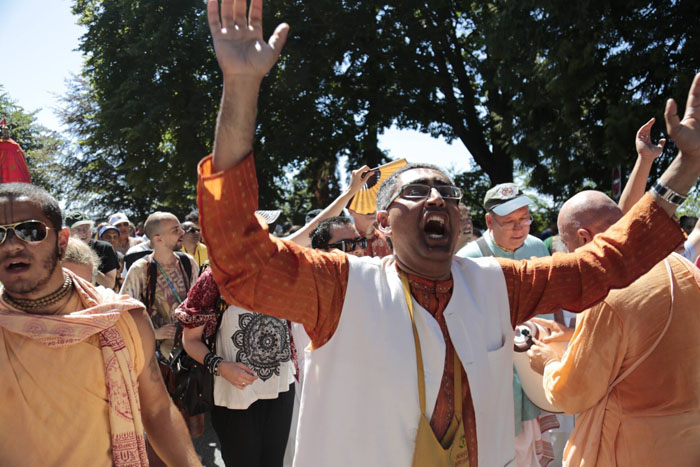 Sunday-Balarama-Purnima-was Ratha-yatra-day. Thus, the parade took on a an even more festive mood as the absence of Their lordships had been felt deeply by Their loving devotees plus the additional glee of wishing lord Balaram his best!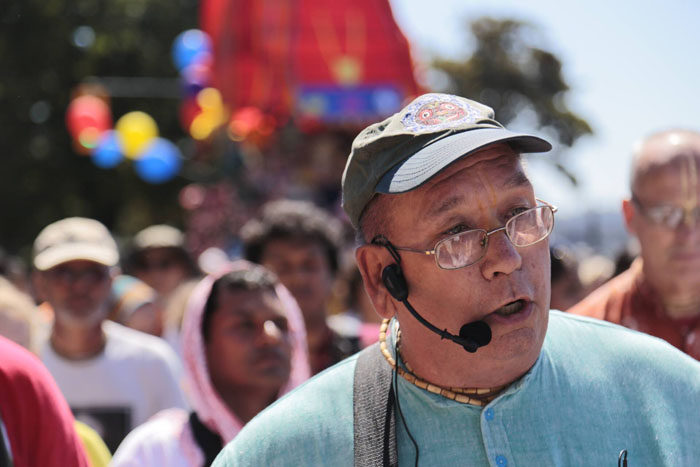 Caitanya Candra Prabhu, above, from Dallas was leading some of the kirtan, getting everyone off their feet--Texas Style. Nitai Gauara Haribol.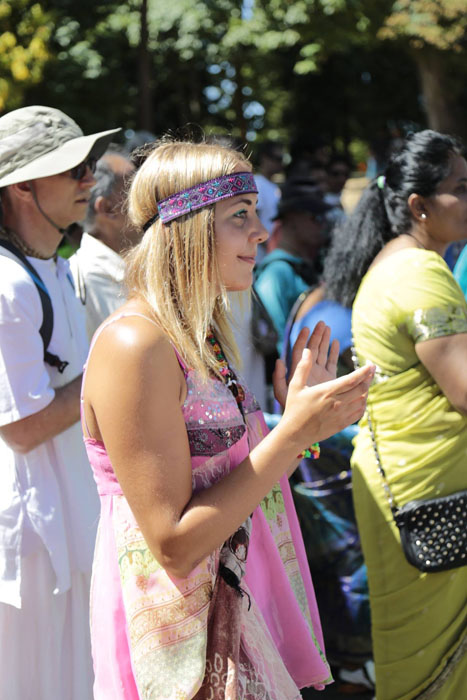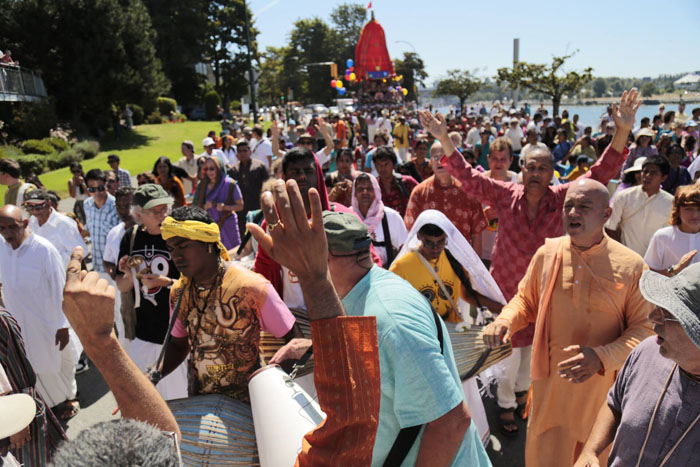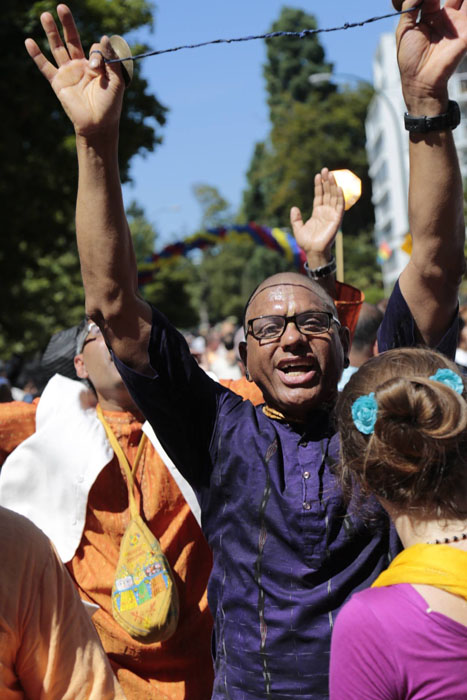 Kripanidhi Prabhu, taking the kirtan to the next level. Hare Krishna
Hours pasted like minutes as the huge gathering basked in the radiant sunshine, danced to the beat of ever sweet kirtan--Hare Krishna Hare Krishna Krishna Krishna Hare Hare Hare Rama Hare Rama Rama Rama Hare Hare--absorbed their hearts in feeling intense reciprocation with Krishna; what to speak of nurturing their earthly form with delicious feasting and delighting their tongues with a wide variety of sweets and beverages.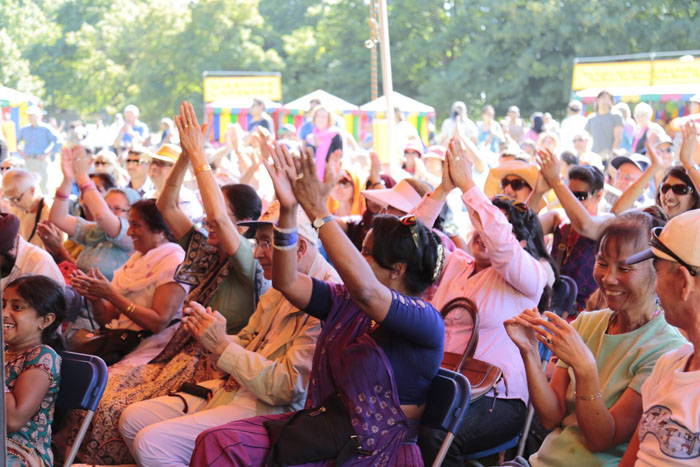 In the tent, in front of the main stage, the kirtan inspired everyone to particiapte.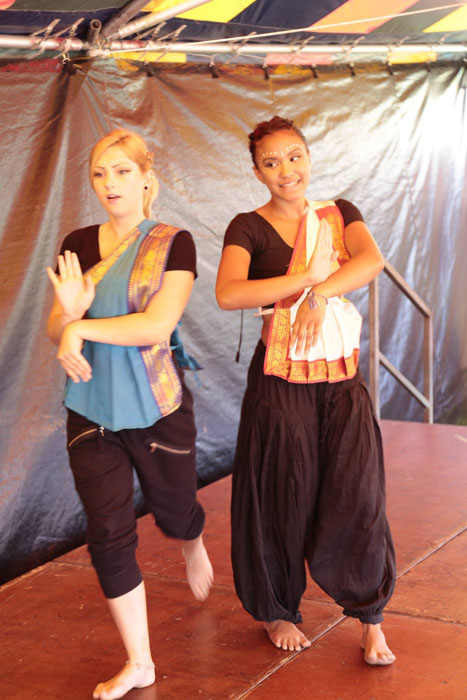 Dances, dramas, and discourses filled the stage, from the Books on Yoga and Meditation booth many cases of Srila Prabhupada's books were distributed to conditioned souls, and thousands of interested parties were introduced to the 'gem' lifestyle that is the image of devotion.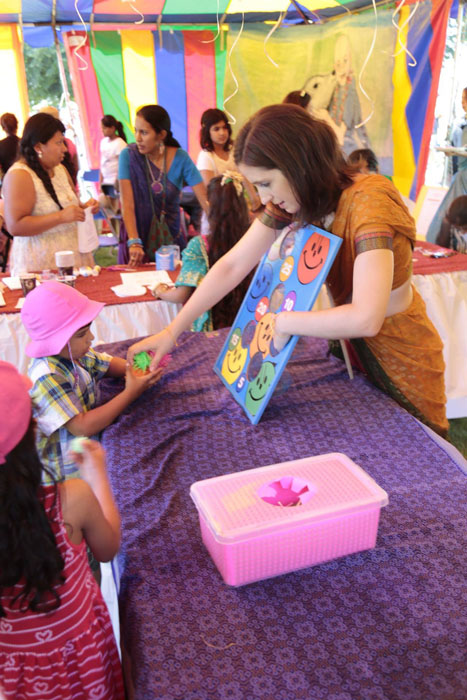 Even the Children's Booth was filled with kids & their parents. Hare Krishna.
Then as that blessed sun climbed to the horizons edge, the "work" of wrapping everything up began. Bhakti yoga ki jaya!
Those many tasks, and cleaning the park continued into the nearly total darkness as the open expanse was completely cleared, and left cleaner than we found it. Hare Krishna.
Then again, accompanied by Lord Balaram's glorious full moon, Prahladalada, with his newly acquired CDL permit carefully drove the FOI truck back to the Burnaby temple. The services might have seemed done but - think again...
One week later - Sri Krishna Janmastami: Sri Krishna's advent festival. So on Monday morning, the same equipment began again to be assembled- oh, the bliss of bhakti!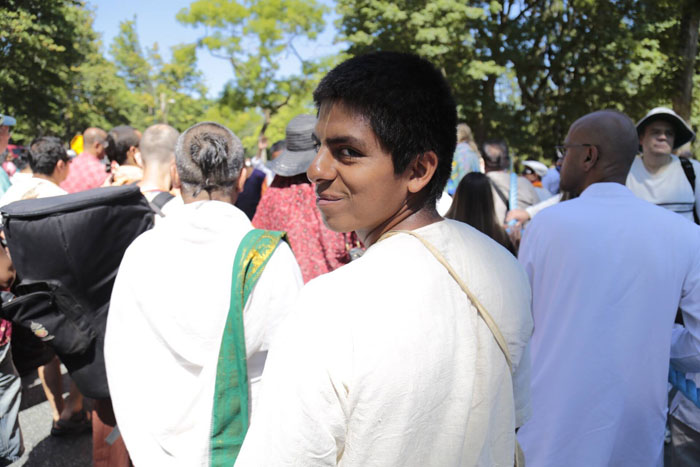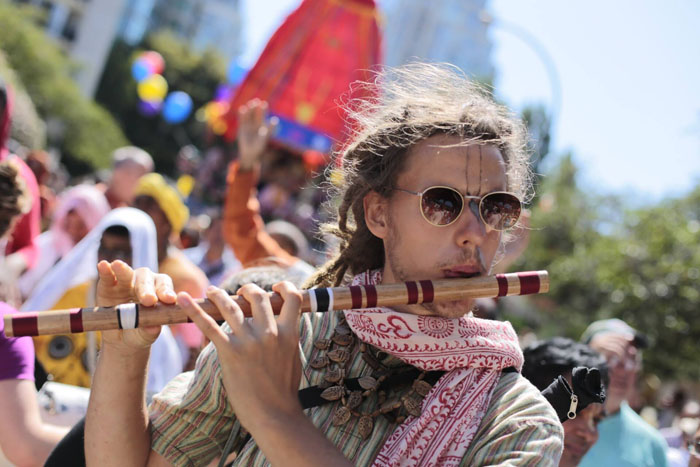 Nrsimha top, Govinda above, Prabhupada Village--we hope to see both of you on next year's FOI tour.
Now, the crew is shrinking even more, Govinda and Vishvambar both went back to Prabhupada Village in Sandy Ridge, NC, and Nrsimha left early Wednesday on his way back to New Talavan. The young men that do the service—setting up these Festivals of India all over North America, are not financially compensated, they come and do the service simply because they like devotional service and kirtan. All three of them wanted to stay for more festivals, however, they are enrolled in University Programs, going to school, so the time was up, they had to go. Hare Krishna.
If you, or any young men you know, are 18 years old or older, and want to join the tour, please let us know ASAP. We especially need men at this time of year when several of the crew members go back to school or work.
Tune in for more news from the biggest Janmastsami festival in North America--Vancouver! Hope to see you there….