Text from Phani Bhusan Prabhu; Photos from Prahladalada Prabhu
As Los Angeles Would have it…
After a four day journey from Edmonton, Alberta with stops in Spanish Fork, Utah for llama-petting and additional chores, all proceeded by rather un-seasonal thunderstorms, the Festival of India crew made it to Las Vegas. This last night, before entering California, most of Festival of India's seasoned crew, spent 5 hours doing Harinam Sankirtan right on the "Strip" until about 2:30 am, the desert 'gambler's heaven'. Markendeya Prabhu stayed back and cooked a feast that was greatly appreciated by the hungry crew after the Harinam.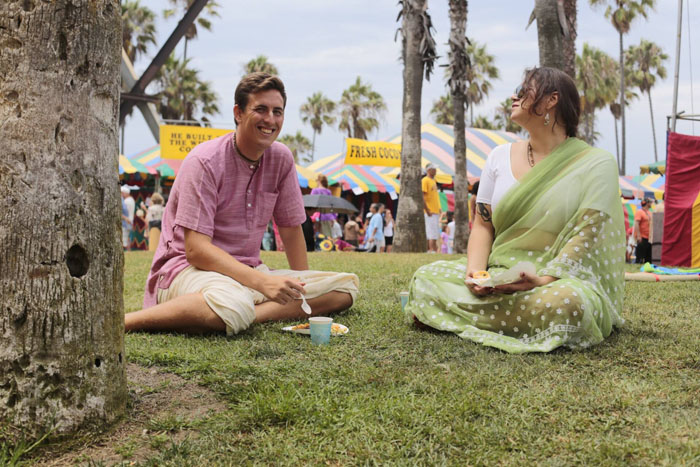 Markendeya Prabhu, a Festival of India veteran crew member, and Bhaktin Evette.
Arriving on Los Angeles mid-day Wednesday, July 30, we found parking for FOI's vehicles, and secured a room in the ashram where we could all bathe. After that 4 day journey, honoring the first class prasadam in Los Angeles was certainly a priority. Hare Krishna.
The cool air in Los Angeles was greatly appreciated after driving through the desert, as well as being able to have a solid night's rest.
Several of the men on the crew took a short excursion to Laguna Beach to visit Sri Sri Pancha Tattva's temple there, go to the beach, and honor some wonderful Krishna Prasadam. The rest of the crew stayed in Los Angeles making preparations for setting up the festival.
Friday morning, July 31, immediately after the most auspicious Mangal Arati, at 5:00 am, FOI's vehicles and devotees rolled out and drive to Venice Beach to set up. This 'Brahma Muhurta' early in the morning auspicious time of day is actually the only time of day that is quiet on the beach.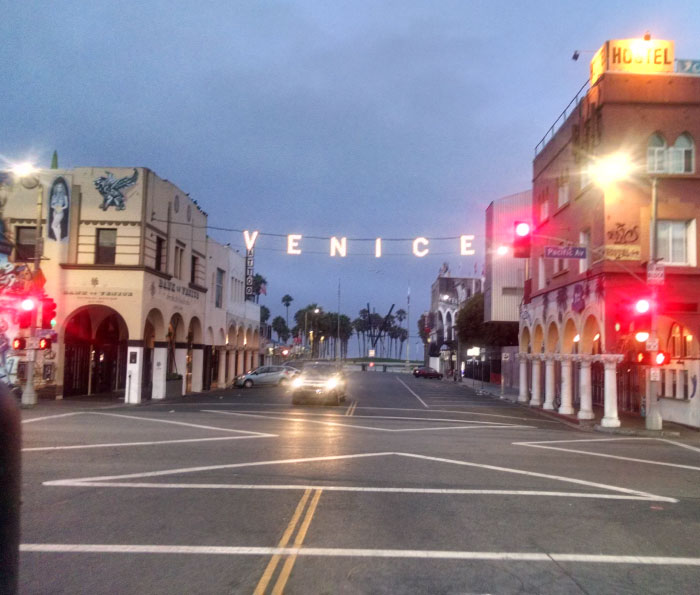 We arrived at Venice Beach by 5:30 am—see photo above.
The doors of FOI's 48' transcendental 'big yellow' trailer burst open and the service began. We started laying out the tent frames when it was still cool and foggy, however within just a few hours, by 8:30 am the sun was blazing and we were all burning up. As the sun came out, and the beach gradually filled up with literally thousands of swimmers, sun-bathers, surfers, and almost all of the 400,000 species of humans. By sunset, all the tents were built, secured in place, and sidewalls were going up.
Many FOI veterans attended and were re-inspired at the Los Angeles Ratha-yatra; their assiociation also was a source of inspiration to many.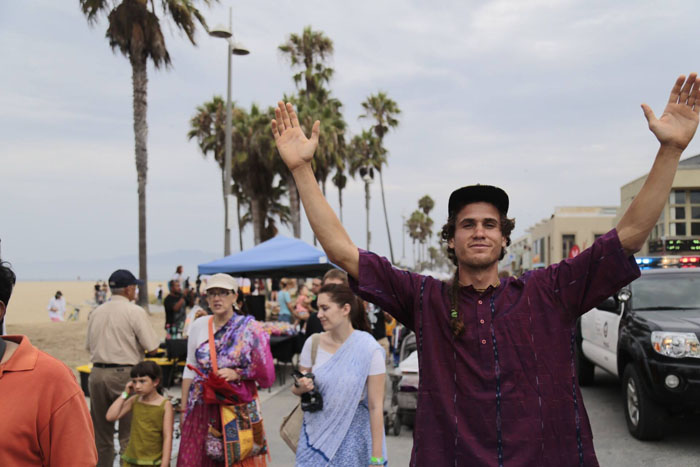 Gadadhar Prabhu, He said "I'll be back". FOI Veteran and CDL driver. Hare Krishna.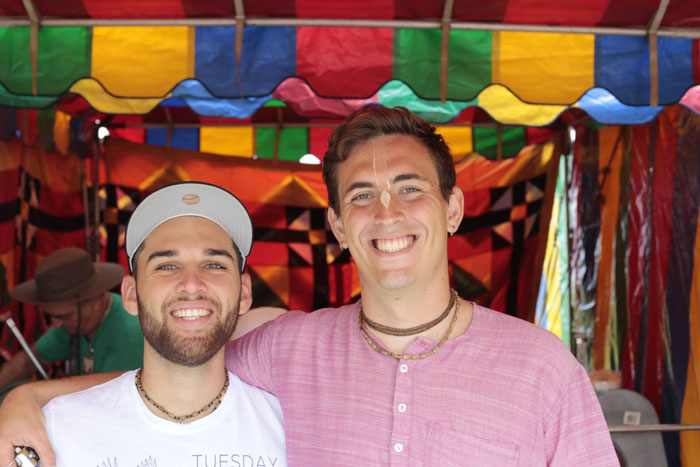 Kana Prabhu and Markendeya Prabhu, it's the devotees that make the program what it is. They'll be back, we're praying.
and some of the 2014 crew members...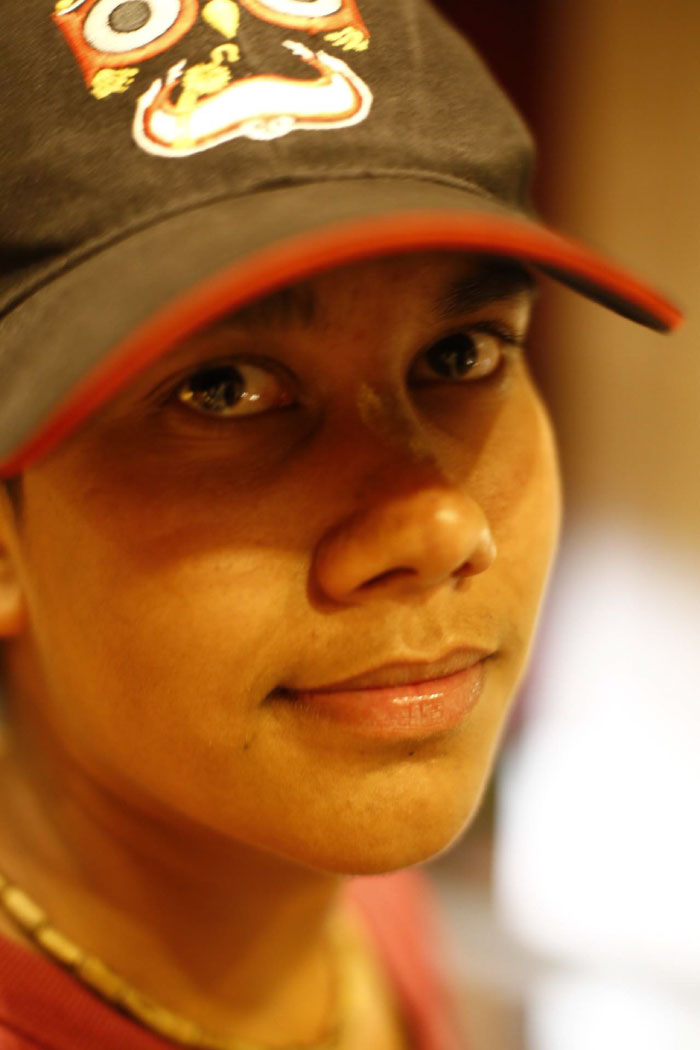 Giri-govardhana from Dallas, the youngest on the road with us this year--Houston through Los Angeles.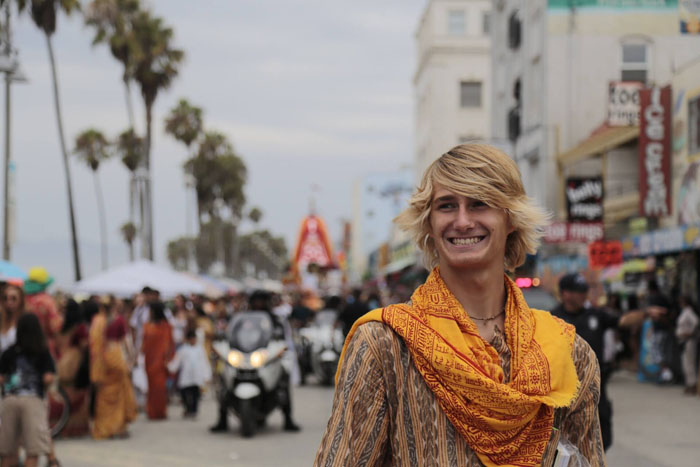 Bhima from Escondido, California...always chanting and dancing...Hare Krishna!

Govinda and Vishvamber from Prabhupada Village transcendentally enjoying the Krishna prasadam.

Krishna, from El Paso, Texas in the kirtan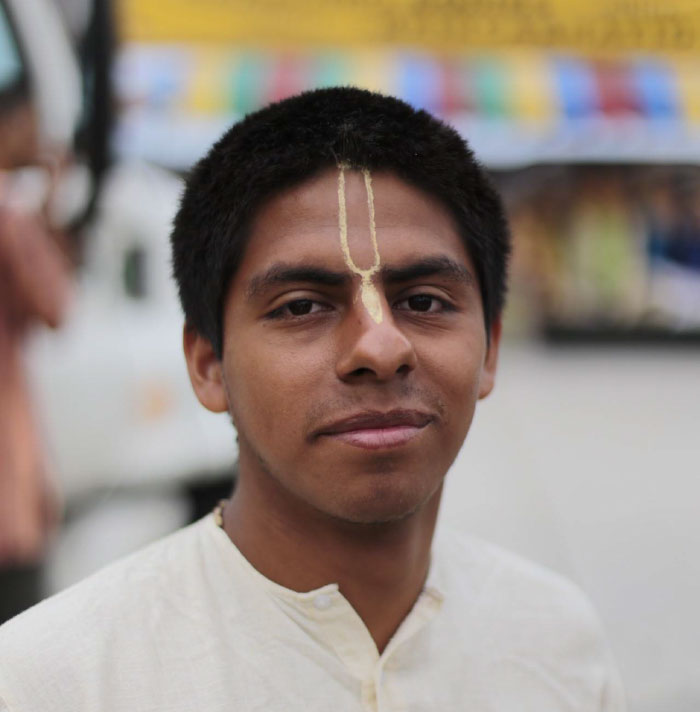 Nrsimha, from New Talavan.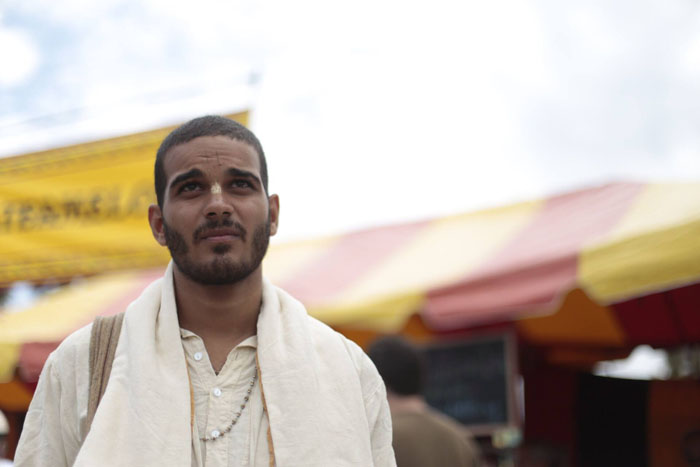 Prahladalada, from Baltimore, been on the road with FOI for 5 years....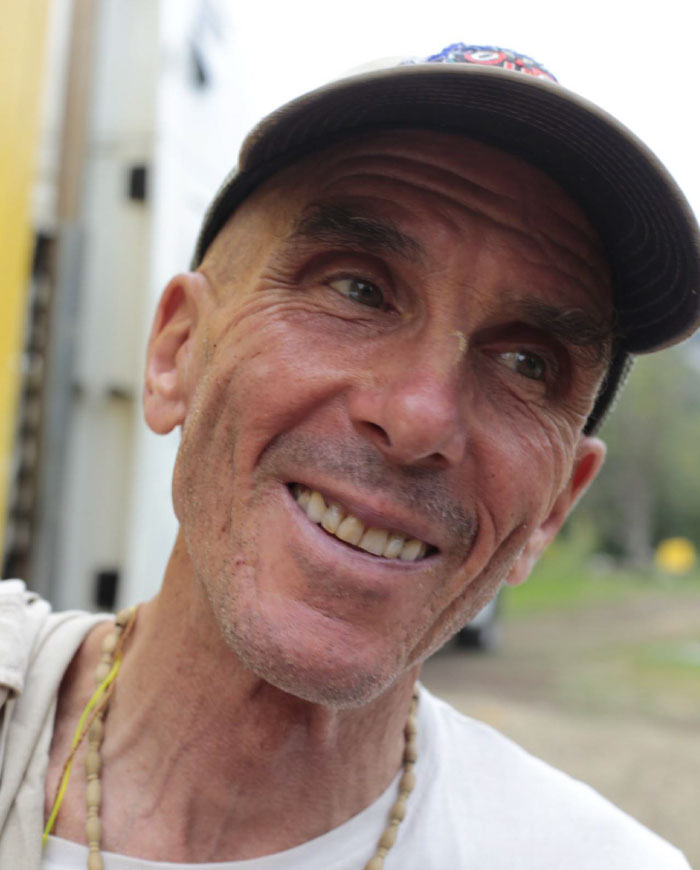 Phani Bhusan Prabhu, from just about everywhere, he's been on the tour since 1992, and still going strong.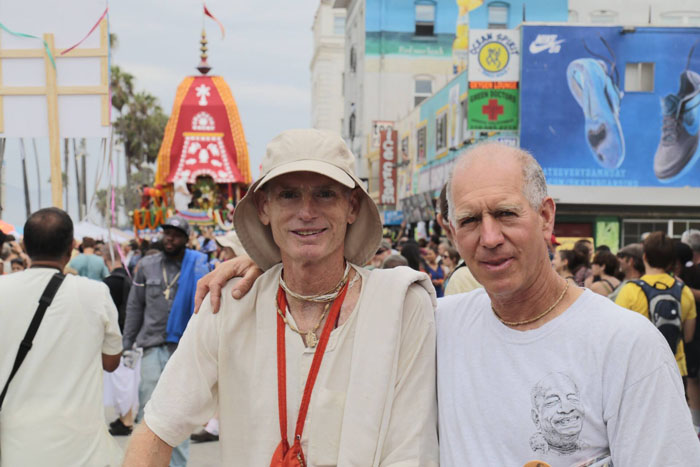 Veda Guhya Prabhu from Maui, Hi.; and Madhuha from Prabhupada Village, hanging in there, Hare Krishna!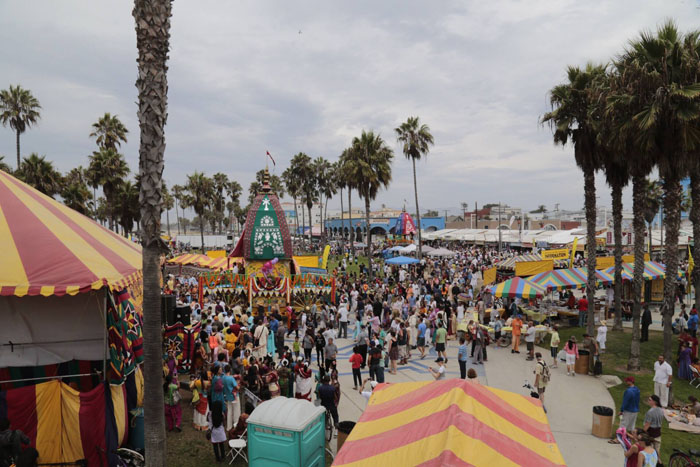 FOI's exhibits and displays were all setup, the electric cables were laid out, then truck-loads of the Los Angeles temple's equipment filled the gaps. Vaisnava youth's golden anniversary reunion generations together for mutual delight.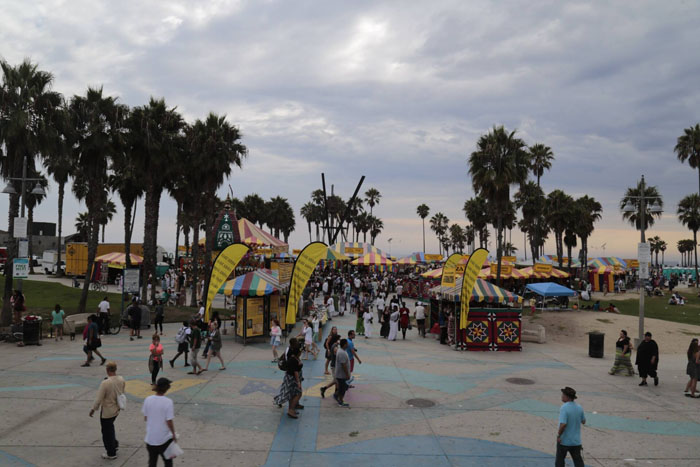 The Venice Beach site early in the morning before the parade arrived.
Now Sunday, August 2, the anticipation of viewing the lord of the universe's present day pastimes was in the forefront of everyone's mind. At 10am the giant carts began to roll from the Santa Monica Civic Center. Shortly thereafter 'they' (Lord Jagannatha, Balavadeva And Lady Subhadra) turned onto the internationally famous boardwalk.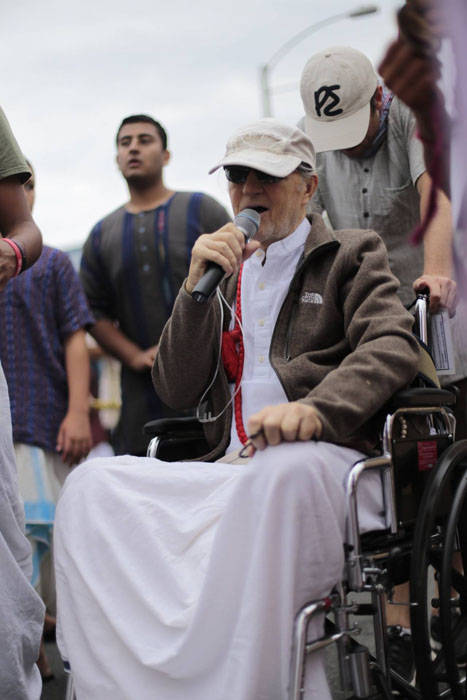 Madhudvisa Prabhu leading the kirtan in the Ratha-yatra from his wheel chair...Hare Krishna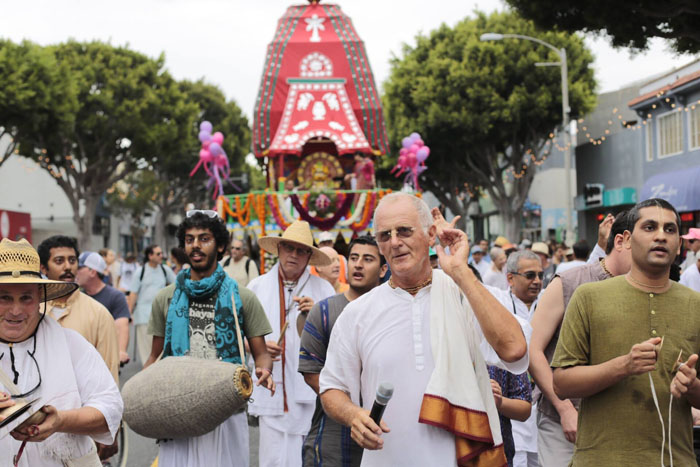 Vatsal Prabhu who designed and helped build several of FOI's exhibits, seen above leading the kirtan.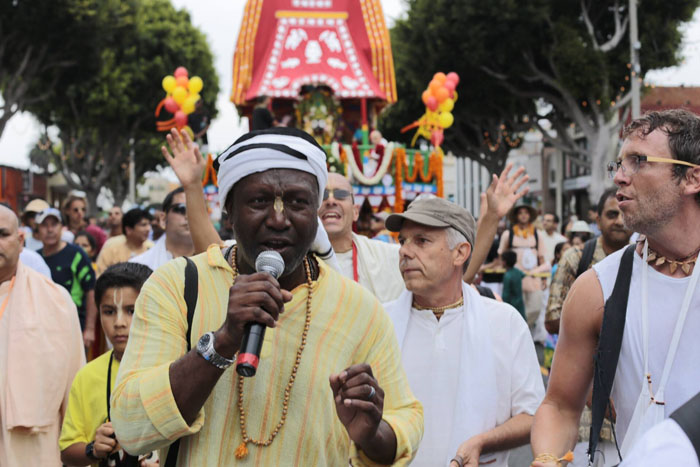 Govinda Datta, one of LA's great kirtan leaders, above leading the kirtan with Jaya Krishna from Utah.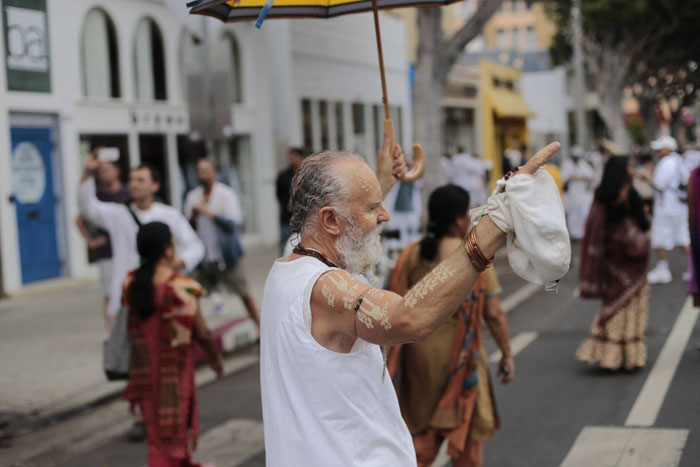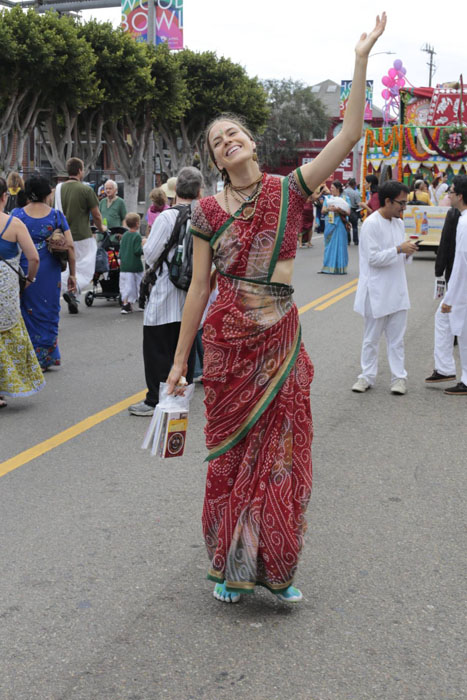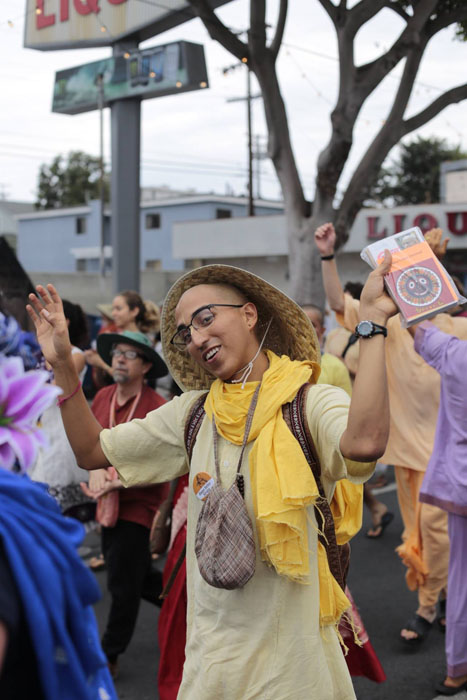 Thousands of the innocent accompanied by a large percentage of not so innocent were greeted by the transcendental factor—The Supreme Personality of Godhead, and ecstatic non-stop chanting of the Hare Krishna mantra. An overwhelming ecstasy rained mercy on everybody. By now it has become something of a tradition that the "fire and brimstone" christians (most of whom, one passerby commented are reformed alcoholics) Joined the parade. How blessed they are to accept their place in the procession.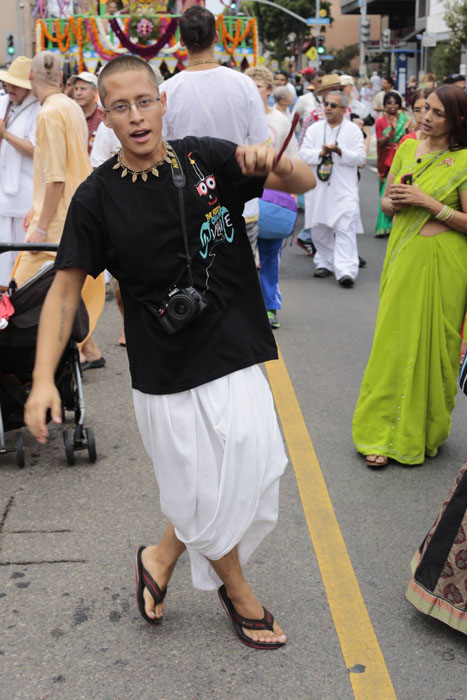 Above, Gaura Shakti from Los Angeles, a future FOI man. We're looking for a few good men. Hare Krishna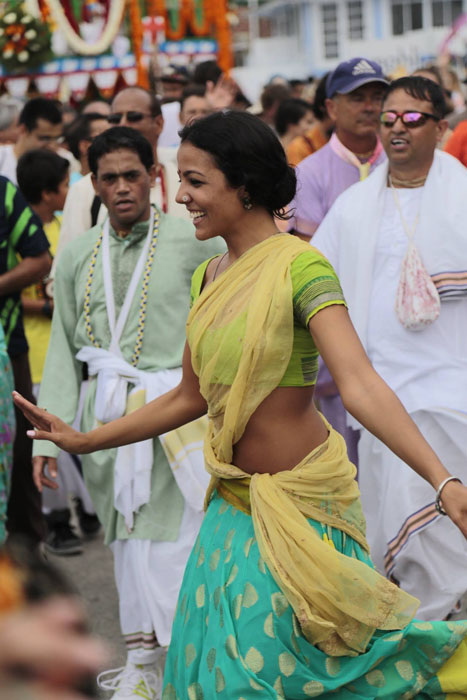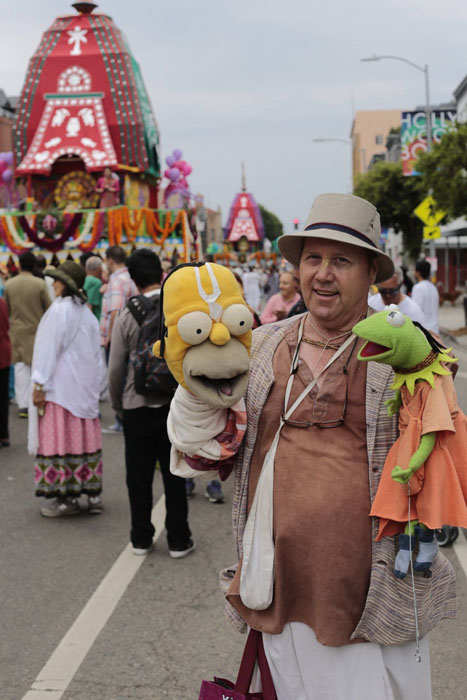 Soon enough the lords cars were parked and the three-all-glorious deities came to their thrones to witness the day's events. Two stages with lots of chanting of the Hare Krishna mantra: Hare Krishna Hare Krishna Krishna Krishna Hare Hare Hare Rama Hare Rama Rama Rama Hare Hare...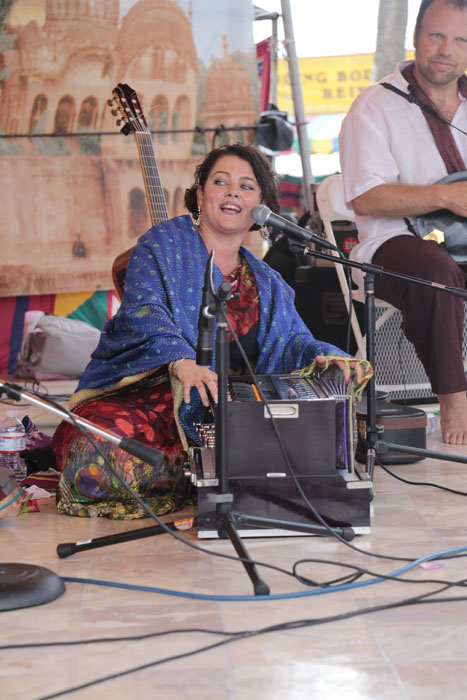 M. Karnamrta d.d. and her band chants Hare Krishna to an inspired crowd of thousands. Hare Krishna.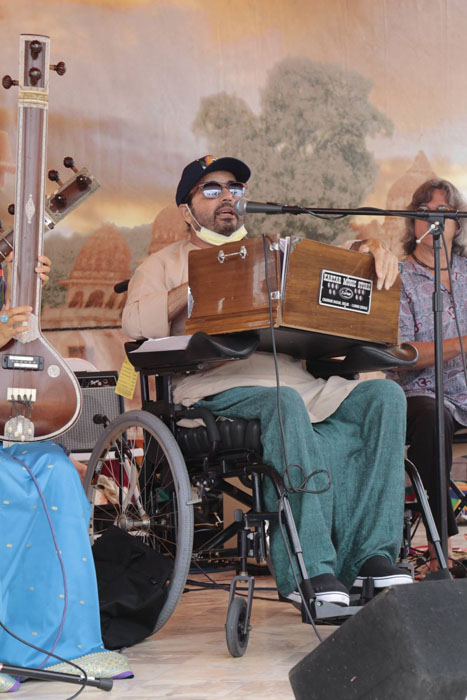 Even when struggling with serious health issues, Sura Prabhu was leading the kirtan (from his wheel chair) with his world famous Bhajan group based in Los Angeles--The Temple Bhajan Band. You can't keep a good man down> Hare Krishna
Then there was a huge gift shop, the biggest of any of the Hare Krishna Ratha-yatras in North America, sometimes called the Hare Krishna Walmart—Govinda's Gift shop on Venice Beach; a wide variety of concessions featuring culinary experiences, plus continuous free feasting, set the pace for the swirling masses who met with literature distribution and every opportunity to voice their burning questions. "What is the purpose of living"? One may rightly inquire; the answer exhibited in every corner and every moment. All glories to Sri Krishna-lord of the universe! All glories, all victory, to his holy names, Hare Krishna, and to his pure devotees, Srila Prabhupada Ki Jaya!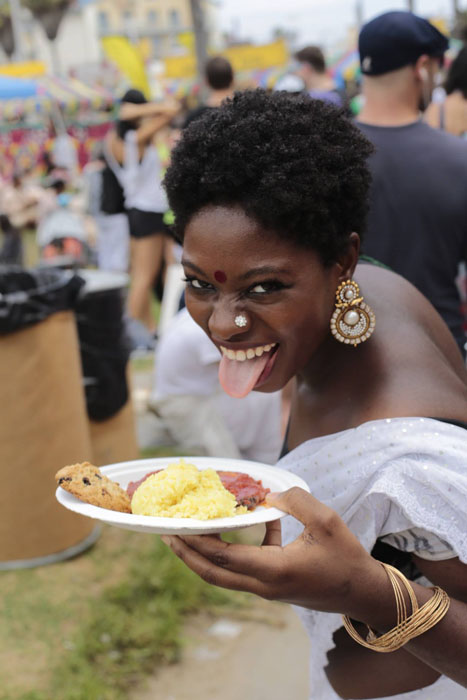 Everyone loved the Krishna prasadam. Hare Krishna.
Their lordships bestowed their blessing with Their seemingly unblinking, and all knowing eyes and Their always radiant smiles. Undoubtedly, by Their desire the threat of thunder showers dissolved. There had been rainfall earlier in the day but by the time the takedown was called, there was no sign if a storm was evident. Quickly, tons of equipment moved from their functional assignment into their transport location. The once all-night-labor intensive efforts have now become an additional presentation of efficiency. Scripture states that Krishna is the efficient cause of all causes; therefore, it is only proper that His servants and His service be executed in that fashion, with great efficiency. Still, it is surely admitted that long hours of physical activity were required.
A well deserved few hours of slumber-the reward; next morning came quickly, as FOI started the drive north towards Vancouver BC.
We stopped at Govinda's in Eugene, Oregon. Dharma Prabhu has been hosting Festival of India's tired crew, and filling us all with fresh first class Krishna prasadam every time we pass through Eugene, on the way to Vancouver, for many years.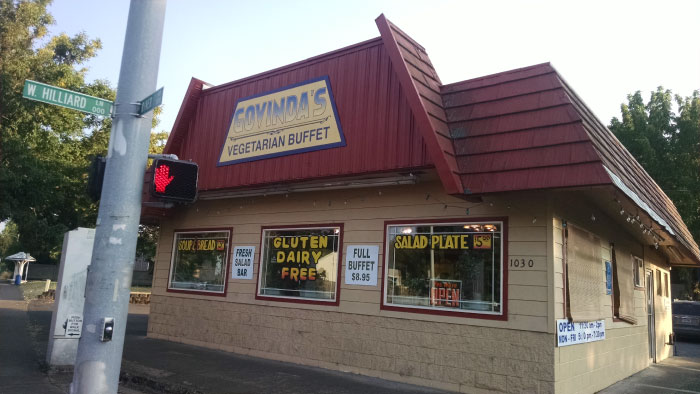 We recommend that if you're in the Eugene area, please stop and take prasadam at Govinda's. Hare Krishna.