Text submitted by Phani Bhusan Prabhu / Photos submitted by Prahlada Prabhu................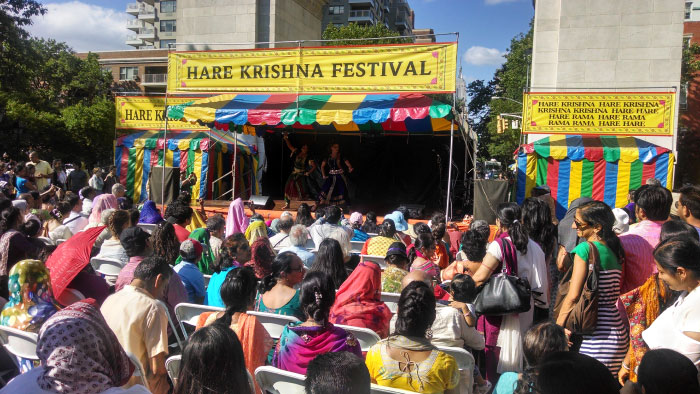 Above, June 14, 2014, the best ever Ratha-yatra and FOI in New York with perfect weather....
Well, as it happened FOI (Festival of India) powered out of Atlanta on Sunday night near, or possibly post mid-night to awaken on Monday Pandava-nirjala Ekadasi at the lovely South Carolina rest area. Soon enough the remainder of return to home base (Prabhupada Village www.prabhupadavillage.com) was made. A quick turn around had most of the crew on their way to NYC (New Yprk City), the truck and others would depart a few days later. On Wednesday night following hard thunder showers four men pushed north via I-81. By Thursday late afternoon the whole of the 2014 crew were reunited at the heart of ISKCON 305 Schermerhorn St's Sri Sri Radha Govinda Temple in Brooklyn NY USA!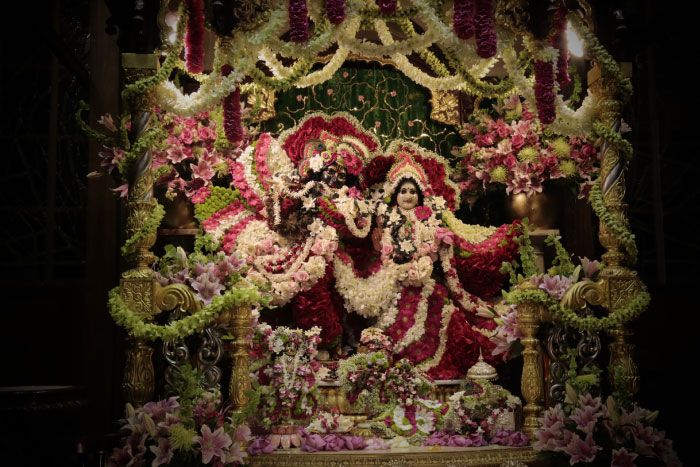 Above, Sri Sri Radha Govinda in an awesome and aromatic fabulously fragrant flower outfit.
Planning and preparations packed Friday's schedule as a volume of volunteers labored in cutting and coordination for a Universal Form-sized free feast. Kana Prabhu, who traveled with Festival of India for five years, and now based at Sri Sri Radha Govinda Temple in Brooklyn, worked with M. Satya d.d. on designing the layout details to accommodate everyone's needs, performers rehearsed their artistic presentations.
FOI crew members were trying to follow recommendations to "rest early" to be ready to face the challenges. After honoring prasadam at 11:30 pm, the stalwart crew and additional willing workers assembled for the marathon services. The FOI trucked backed into Manhattan's Washington Square Park and the doors opened. The setup began around 1:00 A.M. A sixty foot stretch of canopies was arranged for the free feast program and numerous exhibit, concession and interactive were strategically placed as well as a full stage and two dressing rooms (tents). This year cinder blocks were employed to tie down the tents. That completed the ever popular panel displays of "Who is Prabhupada"; The Science of Reincarnation"; your "Changing Bodies"; and "The Illustrated Bhagavad-gita", were placed before the public's eyes. All but 2 of FOI crew headed for Showers. By dawn we were moving the Festival vehicles out of the park on to the streets, unfortunately, some people left their cars in space allocated for Lord Jagannath's vehicles and then the local authorities did their thing....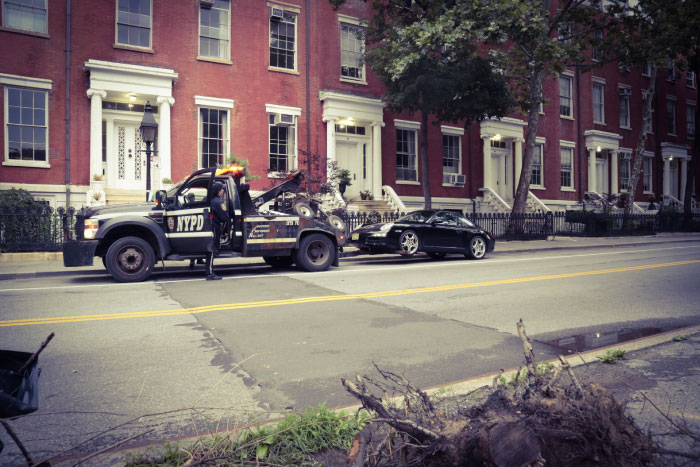 Devotees began to arrive, tables chairs, ice and amazed dog walkers, joggers and so many others, witnessed being drawn into the golden opportunity to find out and experience genuine bhakti yoga. Hare Krishna.
FOI members rested for a while, read, chanted japa (The Hare Krishna Hare Krishna Krishna Krishna Hare Hare Hare Rama Hare Rama Rama Rama Hare Hare maha-mantra softly on beads) and assisted wherever/ whenever opportunity arose.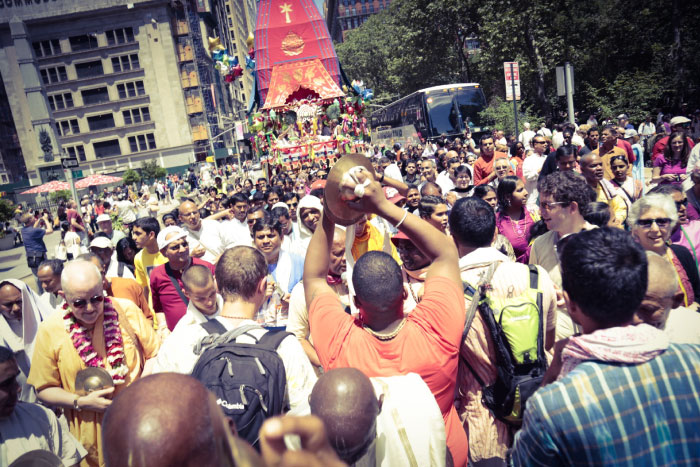 About 40 years ago Srila Prabhupada was very pleased with the devotees for bringing the Jagannatha Ratha-yatra on '5th Avenue', which he said was "the most important street in the most important city of the world"
The sound system effused the atmosphere with Sria Prabhupada chanting Krishna's holy name as colossal crowds packed the fifth ave and forty-fifth st starting point.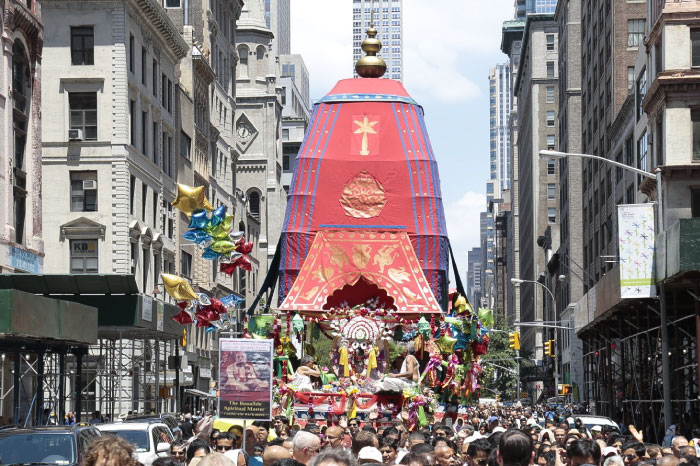 Lord Jagganatha's Ratha-yatra plied steadily towards the ever filling fountain centered park.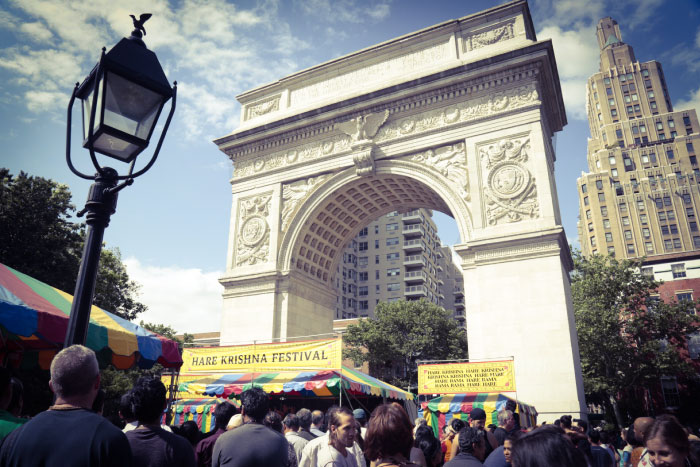 Buses loaded with devotees delivered an amazing collection of treasure bearing followers.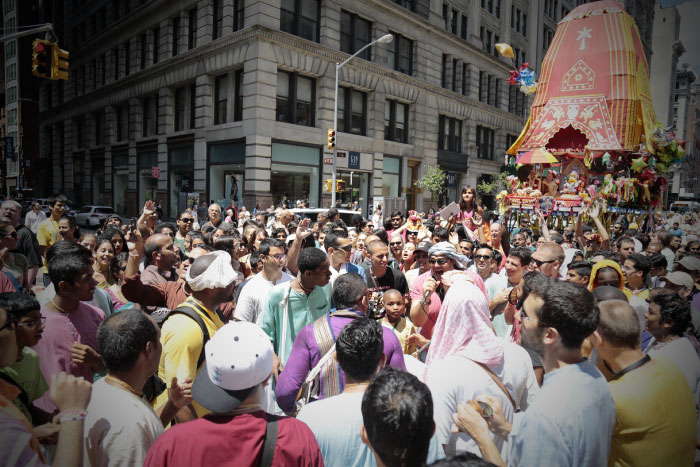 There love for Krishna enriching all lives with enthusiasm, New Yorkers were truly stunned by the beauty of the parade. Their Lordships showered mercy upon everyone! Sri Krishna Sankirtan Ki Jaya. Hare Krishna.
Now rounding the corner at the finish line of Washington Square Park, Lord Jagganatha Baladeva and Lady Subhadra graced the world by their presence.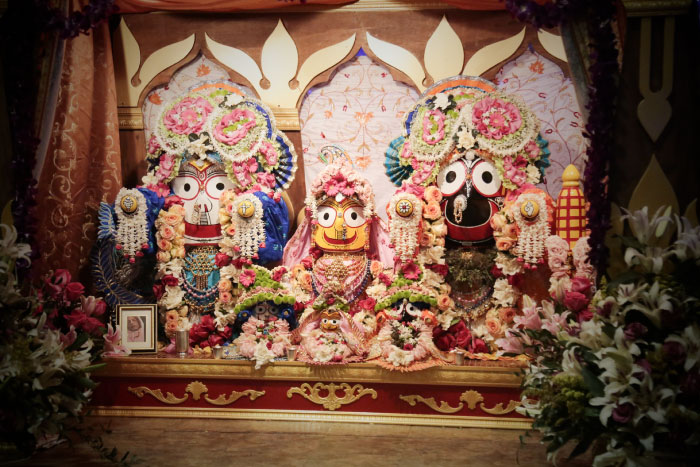 Above is Lord Jagannatha, Baladeva and Subhadra in a totally beautiful flower outfit, as They were at the Sunday program.
With great care and attention They were gently brought to Their own tent a1side aside the entertainment area. Their certainty reflected the loving offerings being presented by all the devotees. A constant flow of blessing seekers, newcomers, and attendant admirers flooded in their direction. A seemingly endless line led others to full satisfaction at the Free Feast as book distributors, preachers, manta meditation demonstrators, plus a spectrum if vendors created a unforgettably transcendental environment that drew all people to involve themselves.
Meanwhile dances, discourses, dramas and delightful musical performances enchanted the attentive audience.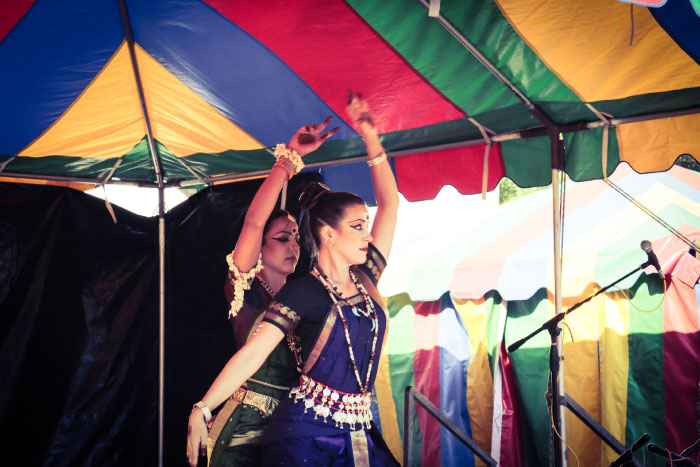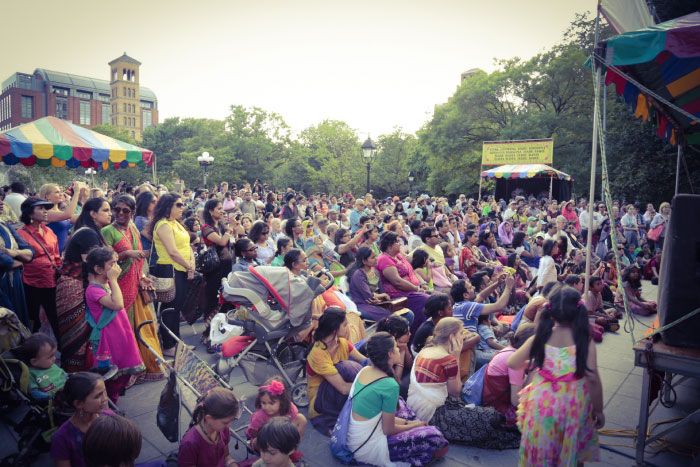 The demigods, being most please by Krishna being glorified, made the weather picture perfect For the occasion. Hours past in astonishing rapidity, then a cool breeze built into a wind just as FOI crew set to work to reload equipment, gradually a vortex of energy accompanied by the final Hare Krishna Kirtan swept the dutiful devotees into "all ahead full" action.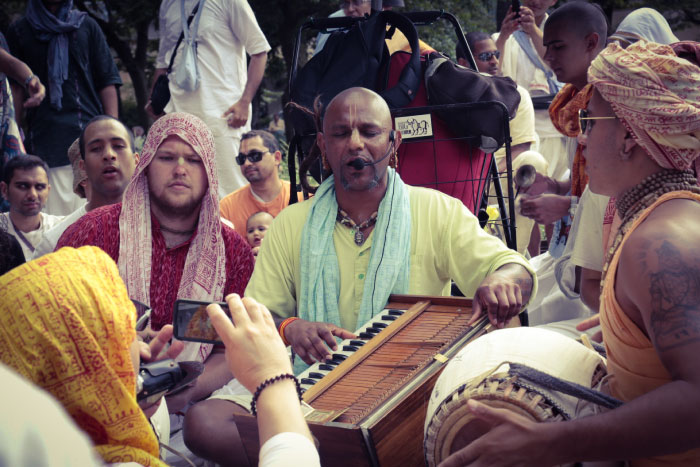 From left to right--Amal Harinam; Madhava; and Govardhana-dhari Prabhu--"The Magic is in the Chanting"
Tent by tent, pole by pole, top by top, sign by sign, piece by piece, the famous New York City Ratha-yatra take-down worked it's wonders. It was intense, but only took 2 hours and three minutes to finish the take-down and cleanup of the park. Many thanks to everyone who helped us pack it all up. Hare Krishna.
One chance observer voiced, "this is really impressive"..! The crew and countless assistants functioned with precise cooperation at fever pitch speed. Then it was done.
The park was left cleaner than it was found and all hearts fully feeling purified, the night descended. Nitai Gaura Haribol!
Through the still traffic jammed streets Manhattan the FOI truck, van and Krishna Culture Festival Tour Bus vehicles found their way back to Sri Sri Radha Govinda temple. Showers and other forms of refreshments observed rest followed much needed for most.
At dawn Sunday, a few hours later, the stirring of a new day brought everyone to regained consciousness, Krishna consciousness. Temple programs held the gathering in place for several hours.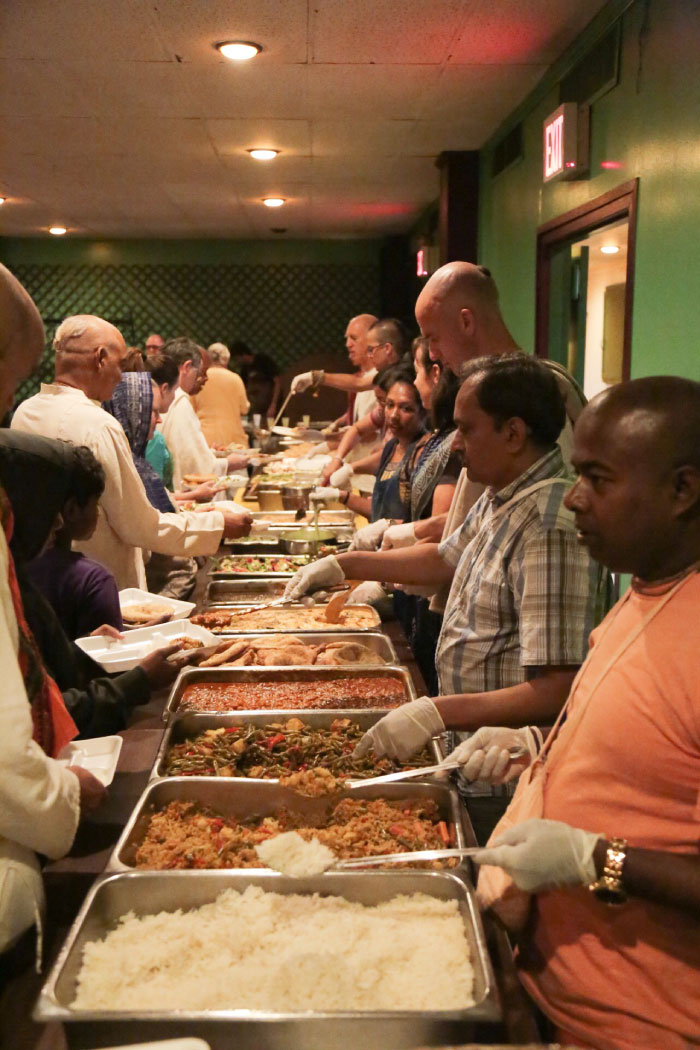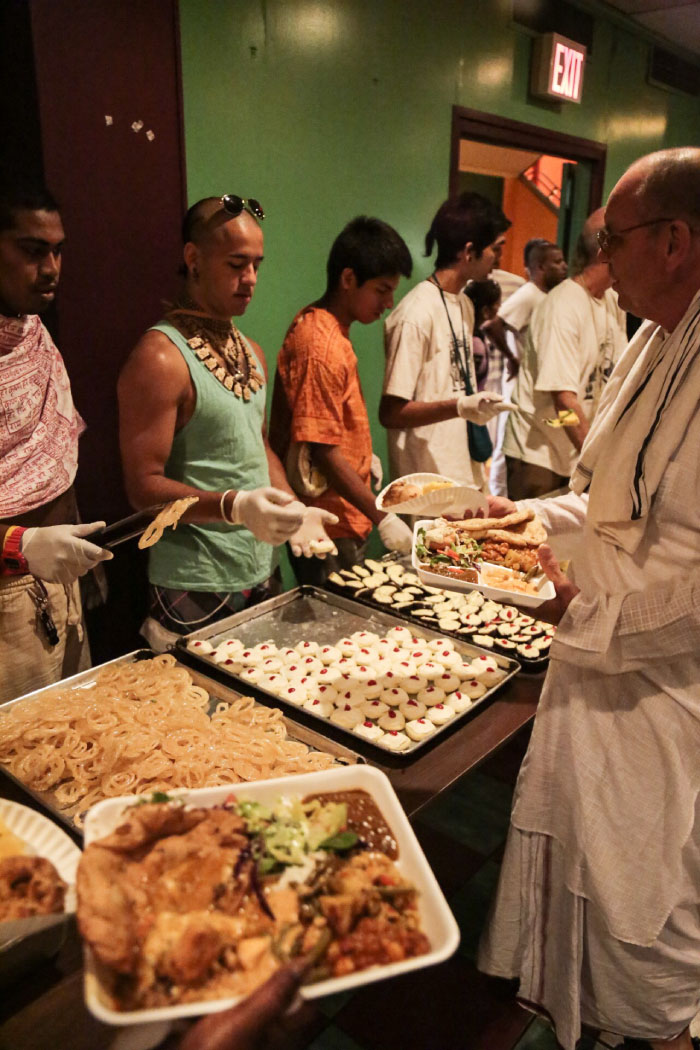 Then a multi course (22 preparations plus beverages) gala brunch Krishna-prasadam pulled everyone to full attention. This traditional Sunday feast in two parts has become renowned. The first half "brunch" was true knockout spread. And only a few hours after that the post Ratha-yatra Sunday feast program with smokin kirtans, ecstatic dancing, theatrical treats and another incredible feast to follow, round off the weekend. Who can estimate Krishna's mercy unlimited he is,...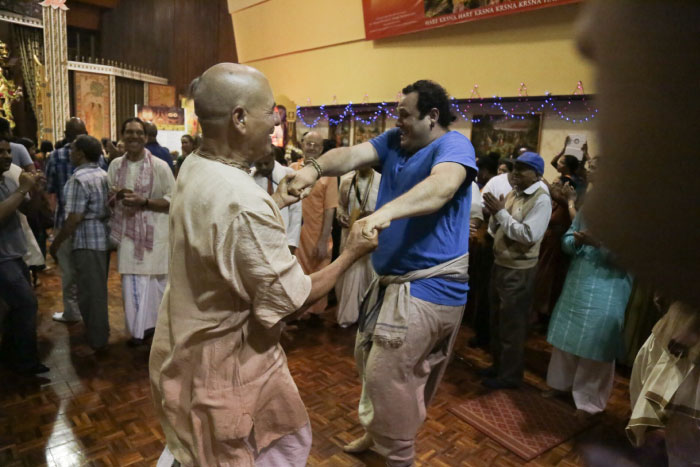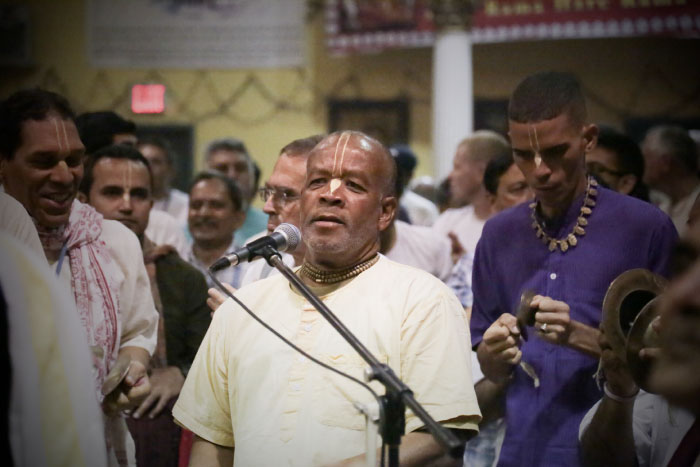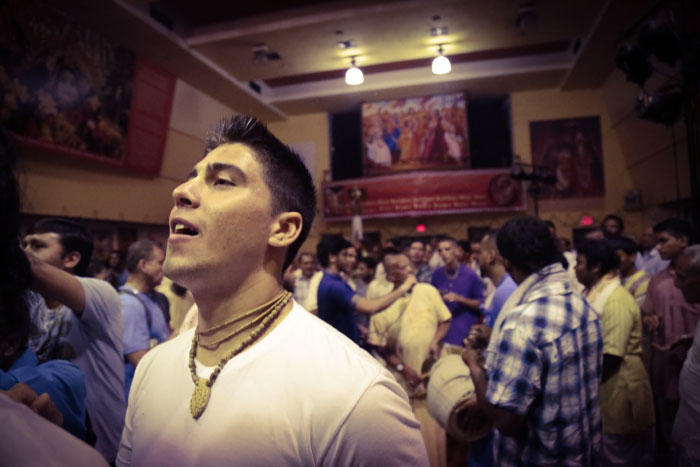 Seeing the Transcendental Form of Their Lordships, exquisitely beautiful, the devotees are in ecstasy.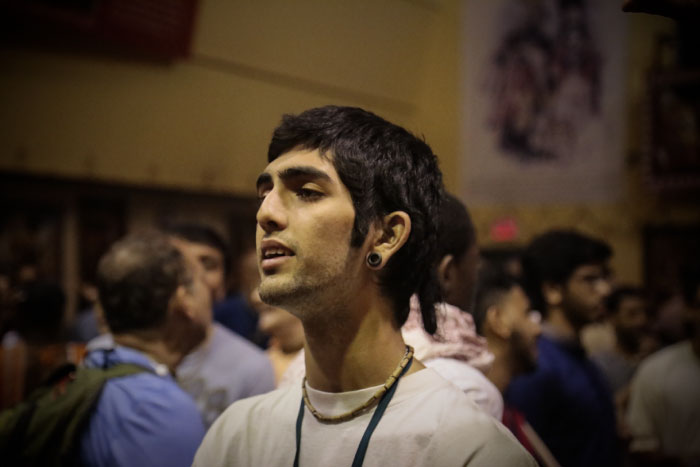 Plans have it that most of the crew will take full advantage of the weekend open for FOI by venturing to the scheduled 24 hour Hare Krishna Kirtan in New Vrindavan event, then regroup for Hartford Connecticut's first hosting of Festival of India since 1983 when FOI was at Wesleyan University. It is non-stop purification for those who follow this program. Thank you for being part of it by viewing this blog. Please check back often and be sure to always chant Hare Krishna.