Text submitted by Phani Bhusan Prabhu; Photos submitted by Prahlada Prabhu
A chill north wind intersected with the path of Festival Of India on route to the Lake Superior side city of Thunder Bay. Early morning after two consecutive all-night highway bouts saw crew and assistants assemble a charming circular array if tents with the parks established stage on the open end.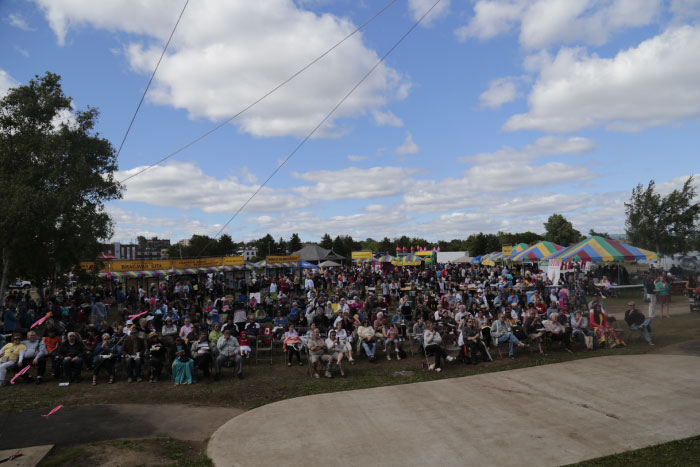 Looking out from the stage at several thousands of Thunder Bay Canadians studying Festival of India's inspiring and enlightening exhibits with great interest; purchasing Srila Prabhupada's books; tasting the delicious Krishna Prasadam; and enjoying the transcendental stage performances.
This year local devotees inaugurated a Ratha-yatra much to the delight of waves of festival goers.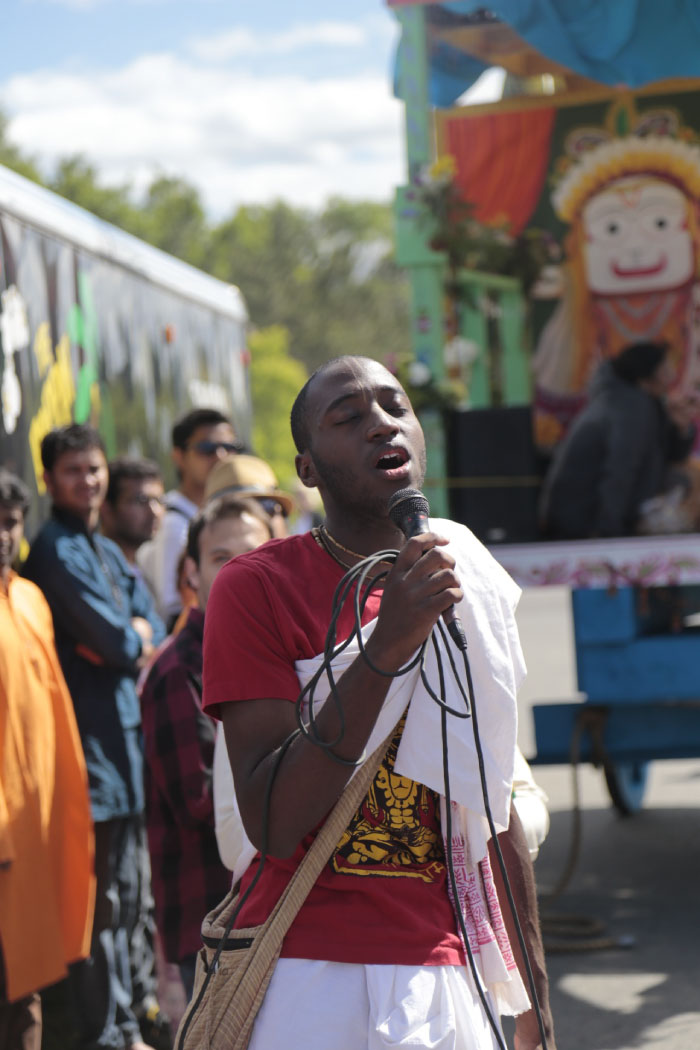 Ananta Prabhu (above), one of the Hare Krishna Boy's Trip organizers leading the kirtan in the First-ever Thunder Bay Ratha-yatra parade.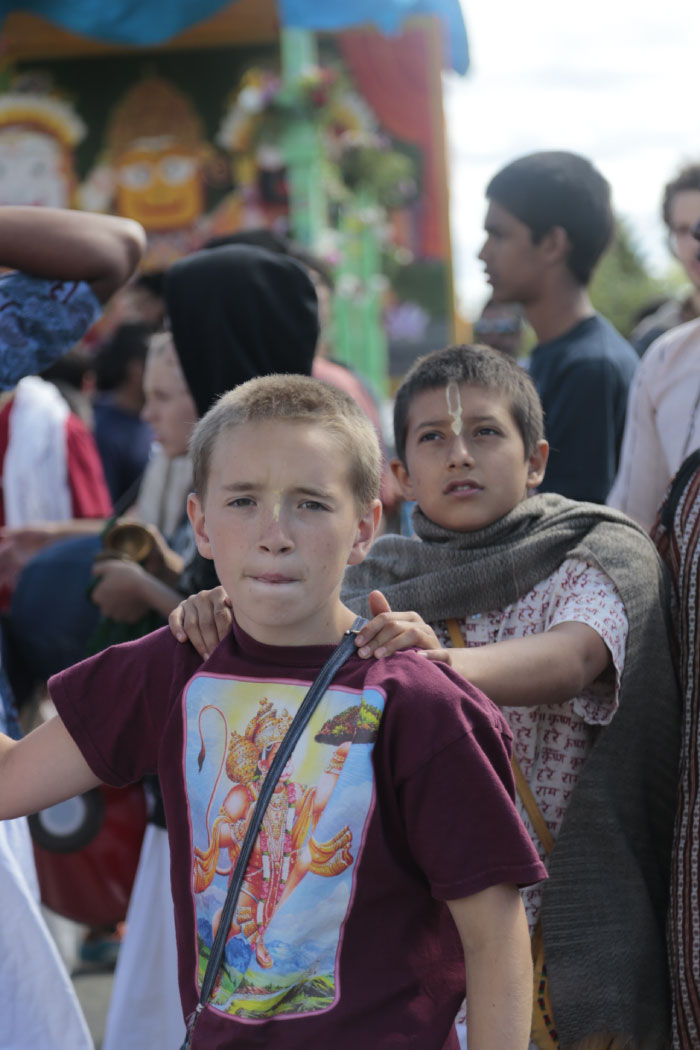 Boys will be boys.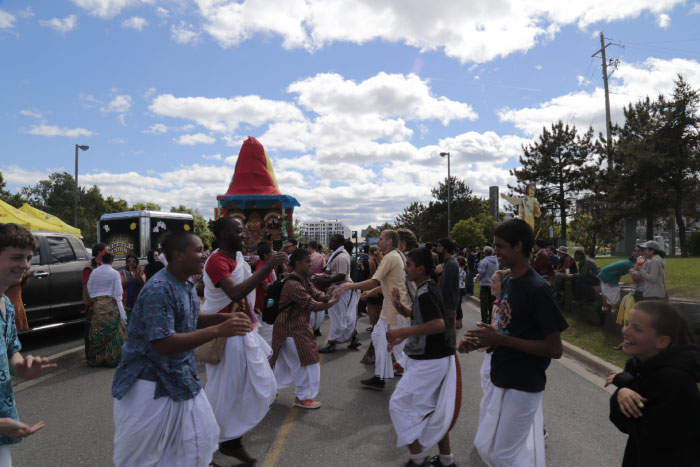 Boy's Trip Boys dancing enthusiastically in the RY. HAre Krishna.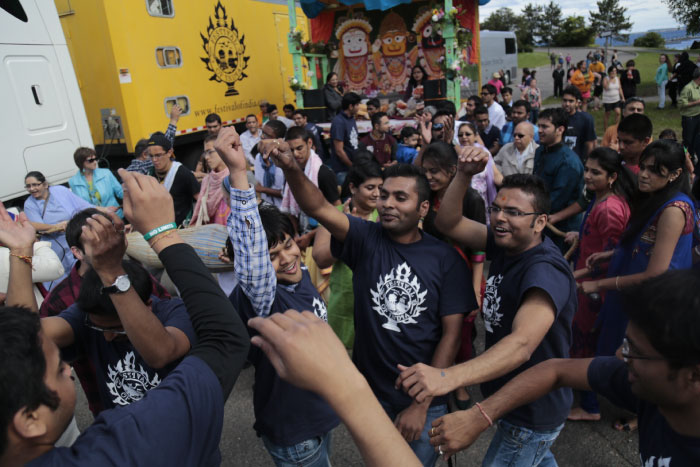 Prema Kishor Prabhu (Dr. Prashant Jani), and his associates--the Thunder Bay Festival organizers, dancing in ecstasy in the RY.
The crowd was thick and composed of essentially new comer local citizens who found nothing but the best in every sphere of the afternoon to evening event. One young man stated : Festival Of India Is awesome, just see what they do!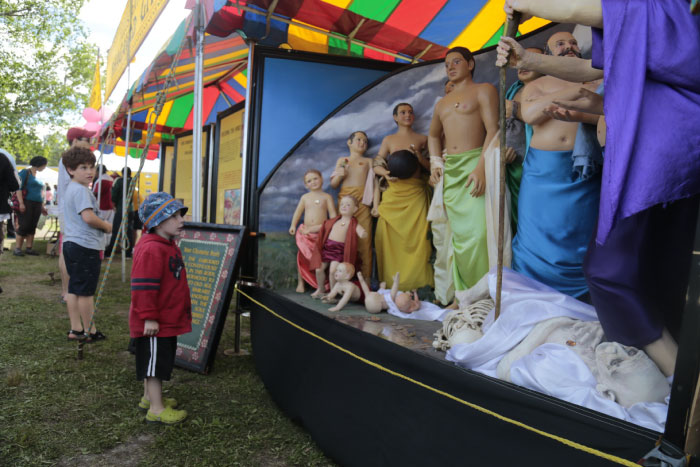 Both old and young, everyone was caught and heavily impacted by the Changing Bodies Diarama and all of Festival of India's exhibits. Hare Krishna.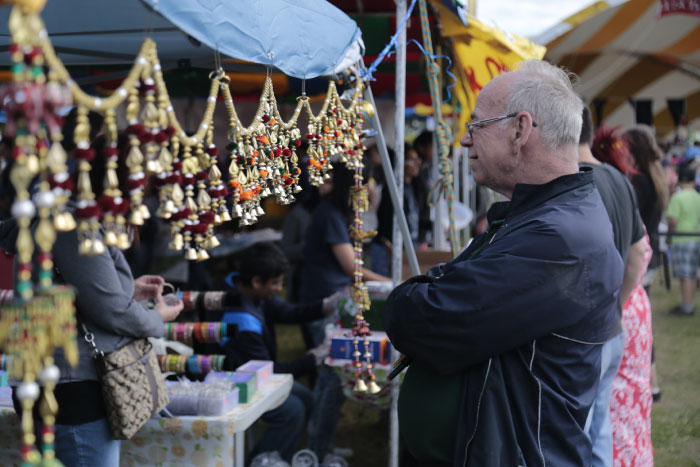 There were many vendors who participated in the festival with all sorts of items.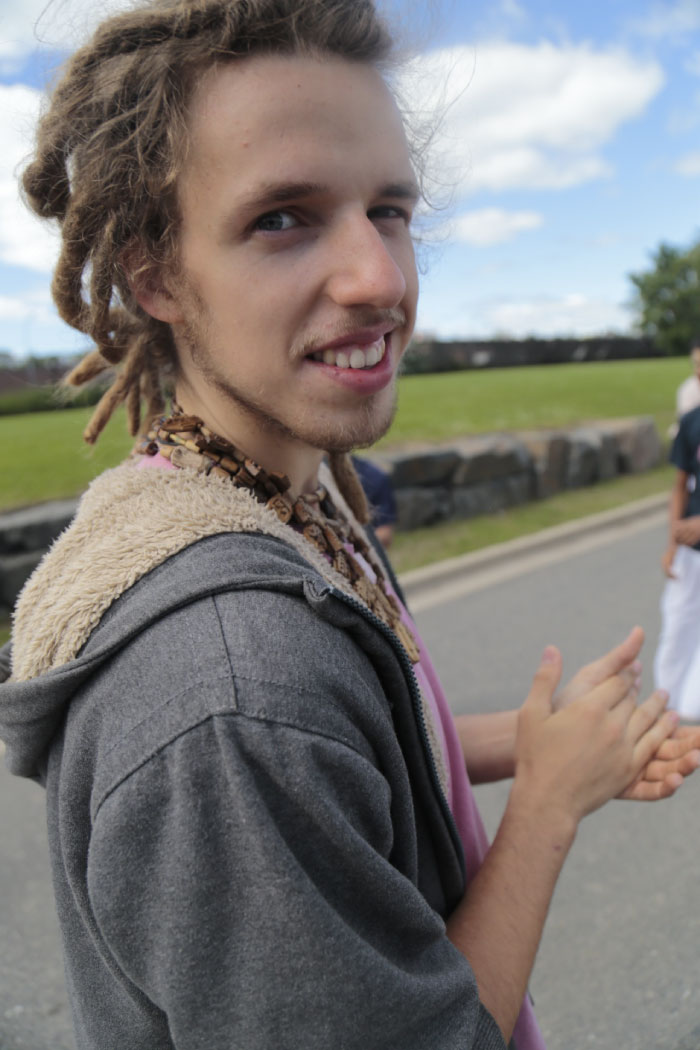 Govinda Prabhu from Prabhupada Village in Sandy Ridge, N.C. (on tour with Festival of India this summer) and many others, were all clapping and dancing. Haribol!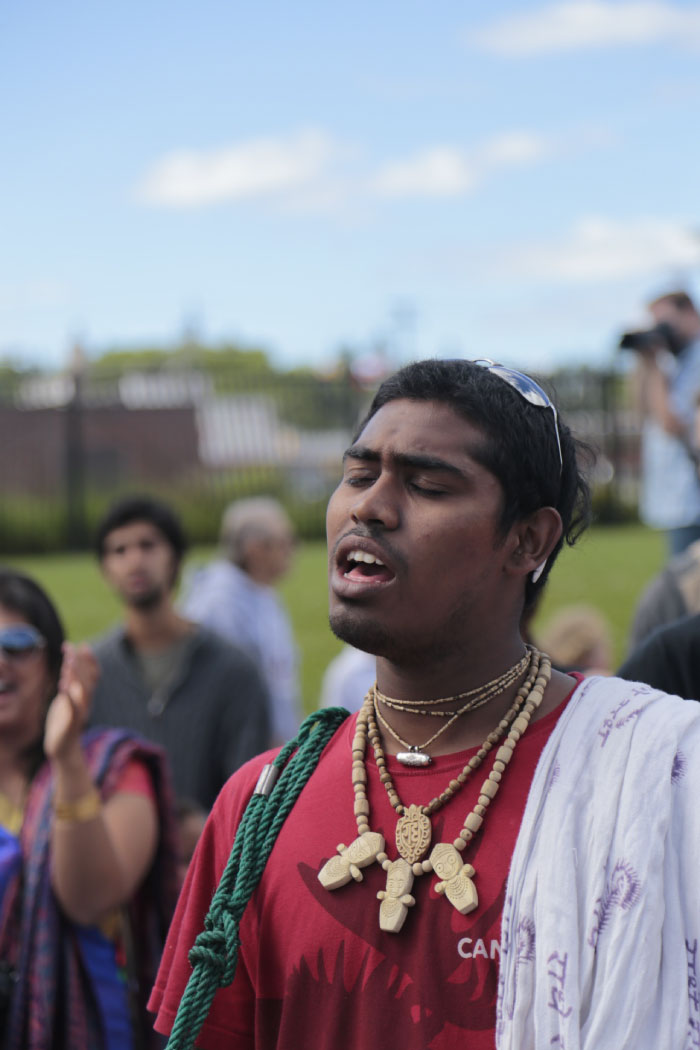 Festival of India's Krishna Caitanya Prabhu, from Vancouver, B.C., chanting Hare Krishna in the RY parade.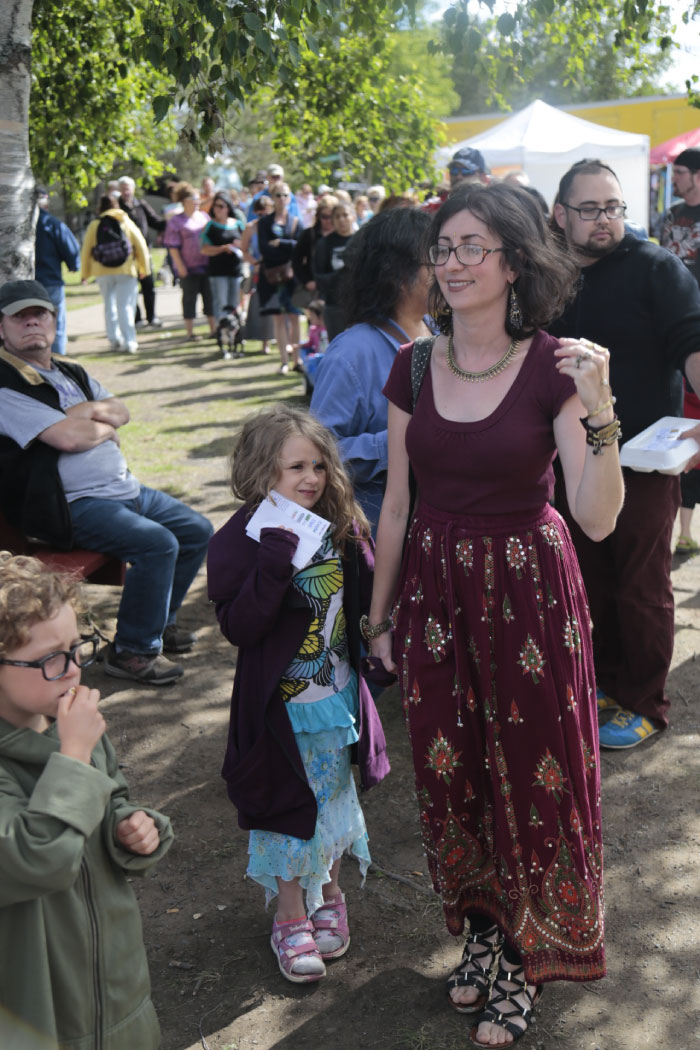 Everyone was blissful at the festival. Hare Krishna.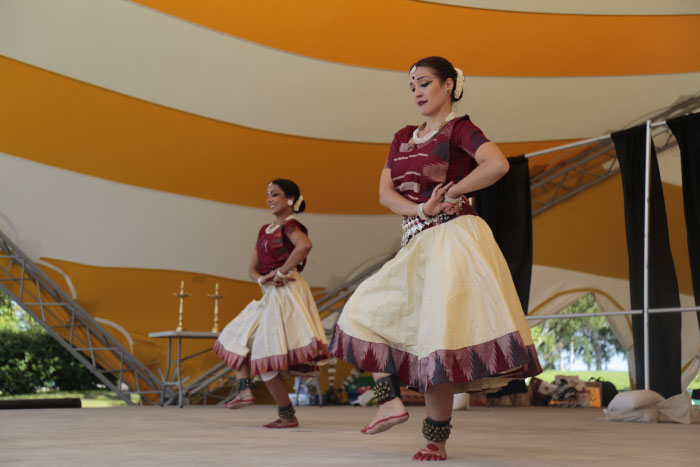 Anapayani devi dasi and her students in the Bhakti Dance School (from Alachua, Florida) travel all over the world performing and teaching.
The organizers of Thunder Bay have targeted their market and have employed inspiring methods to invite and attract the innocent masses to this once a year experience.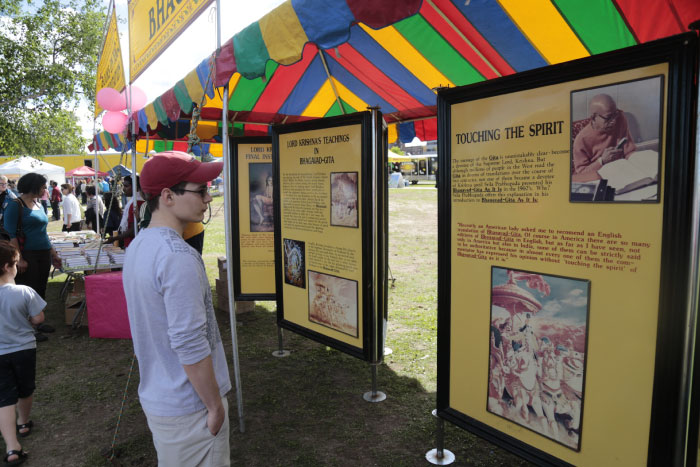 Another inspired Festival-goer absorbs himself in studying the Gita exhibit, and later purchases a Bhagavad-gita to take home. Srila PRabhupada's transcendental books ki jaya!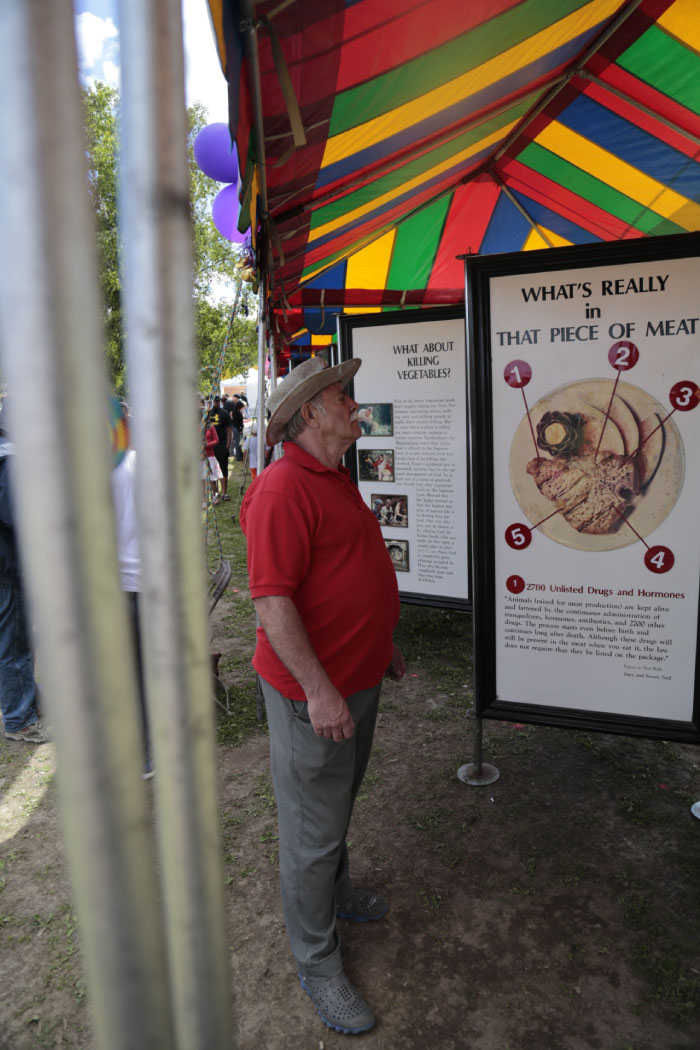 Even the local Thunder Bay Cowboys, take an interest in the "Vegetarianism/The Higher Taste" exhibit which clearly challenges their personal diets and ways of life.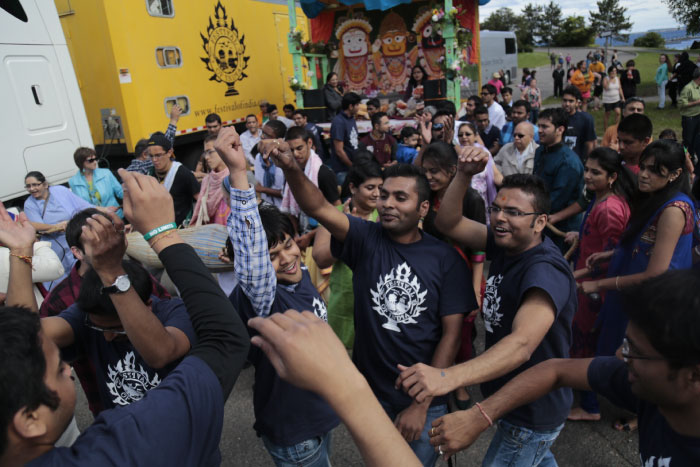 Whenever there was a kirtan on stage, the local Festival organizers jumped in and were dancing like transcendental madmen. Niati Gaura Haribol!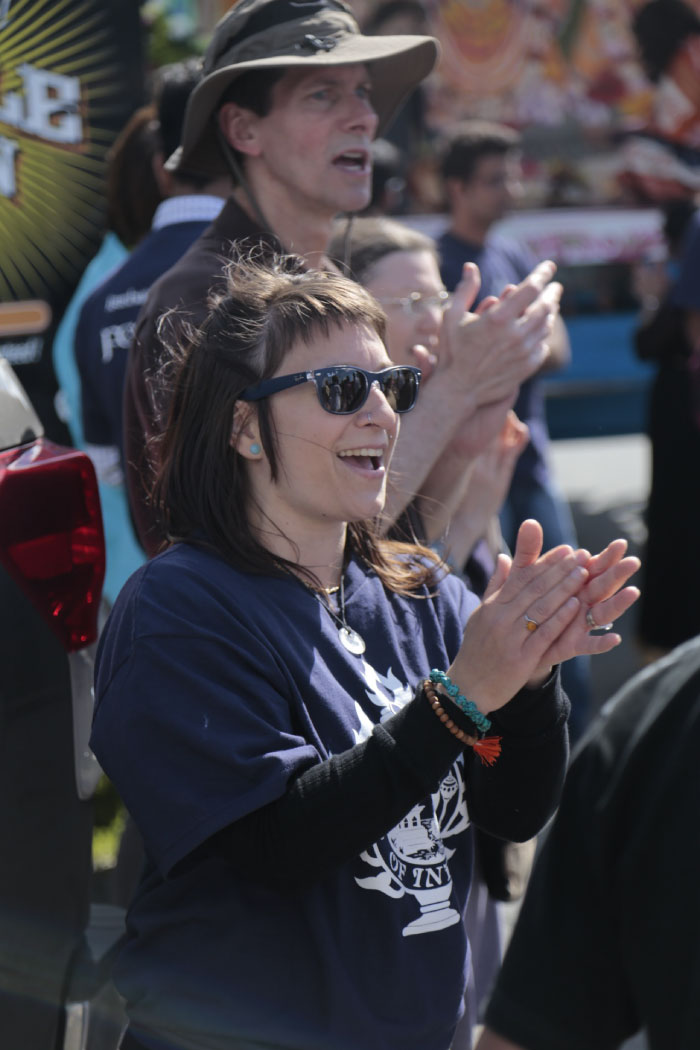 The local Thunder Bay residents simply could not contain themselves, they were all dancing, or at least clapping vigorously as the kirtan resounded through the park.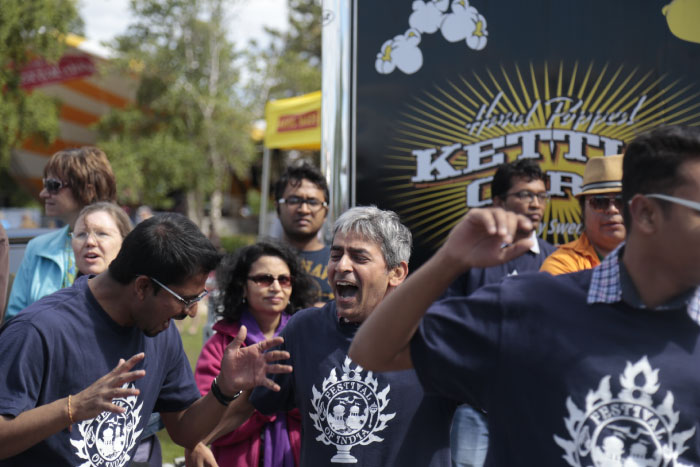 The devotees who made it happen....Hare Krishna.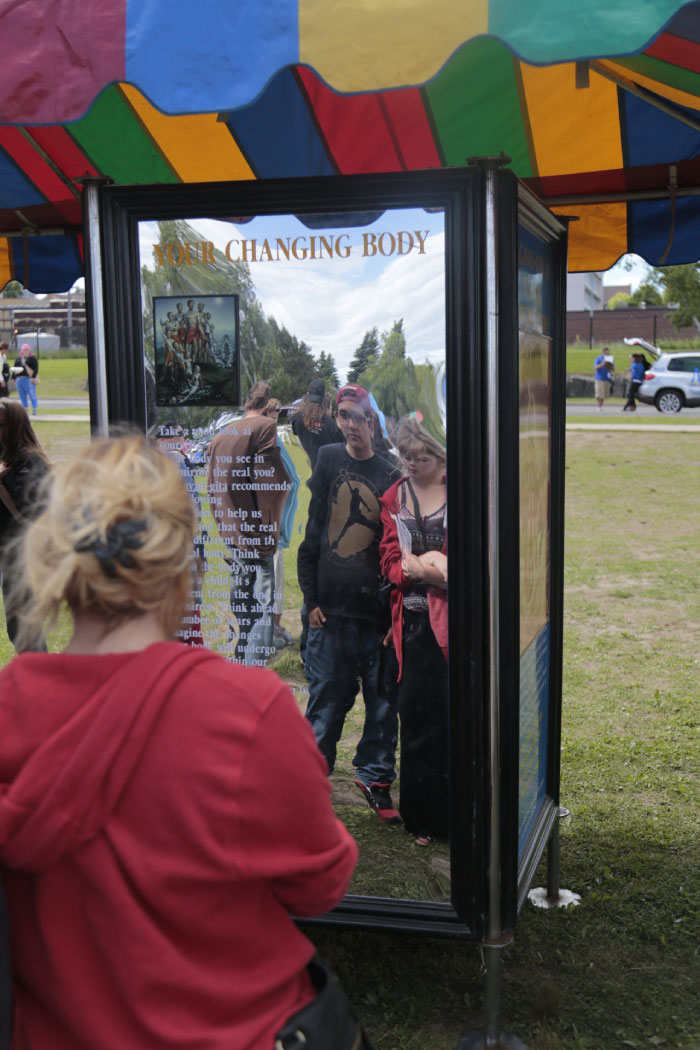 Although there was first class Krishna Prasadam at the festival; entertaining and inspiring performers; and fun rides for the children, it is Festival of India's transcendental exhibits that impact and actually inspire inquisitiveness in people. Seen above is a young lady looking into one of the main panels on the Reincarnation exhibit, she later purchased a Coming Back and Srila Prabhupada's Bhagavad-Gita As It Is. These exhibits are actually first class marketing tools to introduce people to Srila Prabhupada's books. Hare Krishna.
A welcome tent issued Festival of India passports to each interested party. The passport included a map of the site, program guide and stage line up and ballot for prize winning that required a collection of passport stamps at booths. The drawing of submissions closed the stage, therefore the eager remained to the conclusion. Oh but the end was quite a way off, for straight from their services, the FOI crew and Hare Krishna Youth Ministry Bus Tour--The Boy's Trip members, set to the task of take-down & packing up all the tents, exhibits; and sound system etc. By-nearly midnight the moon lit area was cleared of tents, ropes and stakes. And we were on our way! See you in Calagry....Hare Krishna